Frank Underwood's District Up For Grabs: South Carolina Is Tuesday's Other Special Election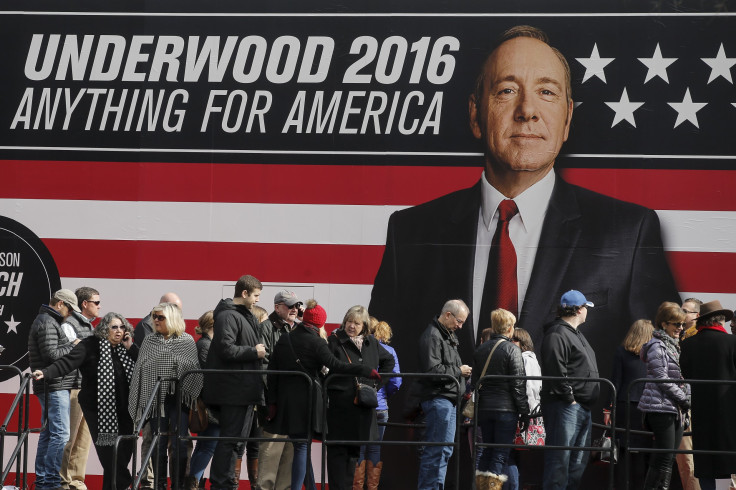 The special House election in Georgia Tuesday soaked up most of the attention and has become the most expensive House election in history. But there is another special House election in Georgia's neighboring South Carolina. It also happens to be in the home district of fictional "House of Cards" character Frank Underwood.
The actual candidates, who aren't fictional presidents from "House of Cards," are Democrat Archie Parnell, a former Goldman Sachs employee, and Republican Ralph Norman, a former state representative. Parnell used Underwood's signature monologue style in campaign ads.
READ: Who Will Win Georgia's Election? What Polls Say About Jon Ossoff vs. Karen Handel
The race is to replace Mick Mulvaney, who stepped down to enter the administration of President Donald Trump as the Director of the Office of Management and Budget. Parnell is a bit of a long-shot to win Mulvaney's old seat. According to ESPN's FiveThirtyEight Tuesday, South Carolina's fifth district is 19 percentage points more Republican than the rest of the country. Trump won handily here. Mulvaney, who is a founding member of the far-right Freedom Caucasus of the Republican party, won by landslides in each of his elections. Mulvaney beat his last Democratic opponent by 20 points, The Herald reported Tuesday.
Polls have shown Norman up between nine and 17 points, according to FiveThrityEight.
The key for Democrats in this race is to keep it competitive, even if it's an uphill battle. Rollcall reported Tuesday that internal Democratic polling has Parnell down by around 10 points, which closes the gap from the beginning of the race.
Democrats hope to sustain the energy from an anti-trump wave amongst blue voters, even if it doesn't mean a win. Two special elections in heavily red districts this year, in Kansas and Montana, yielded closer races than expected, even if Democrats ended up losing.
David Axelrod, a Democratic strategist, preaches pragmatism over optimism, holding up Ossoff as a chance to actually win.
"I'm for grass-roots politics, but if you're going to actually win seats, you need to focus on helping candidates who will be the most potent for the general election," said Axelrod to the New York Times after the Montana election. "That's one of the reasons there's a competitive race (in Georgia)."
READ: Jon Ossoff Recalls Sanders vs. Clinton Debate: A Look At His Politics
South Carolina's race is much more about Trump than the Georgia race. Jon Ossoff, the Democratic candidate in Georgia's race, started out talking about Trump a lot but has pivoted towards local politics. Parnell called Norman a Trump clone in campaign e-mails, according to Roll Call. Parnell's campaign video ends with this message: "Archie Parnell is no Frank Underwood, and Washington shouldn't actually be like House of Cards." And on the other hand, Norman has used Trump. The President recorded an automated phone message for Norman and has tweeted his support of the Republican."
The National Republican Congressional Committee spent just under $100,000 on Norman and the Democratic Congressional Committee chipped in $250,000 for Parnell, New York Magazine reported Tuesday.
© Copyright IBTimes 2023. All rights reserved.