French Airborne Drone Maker Parrot Sets Sail With 13 New Drones, Including Two Water-Based Models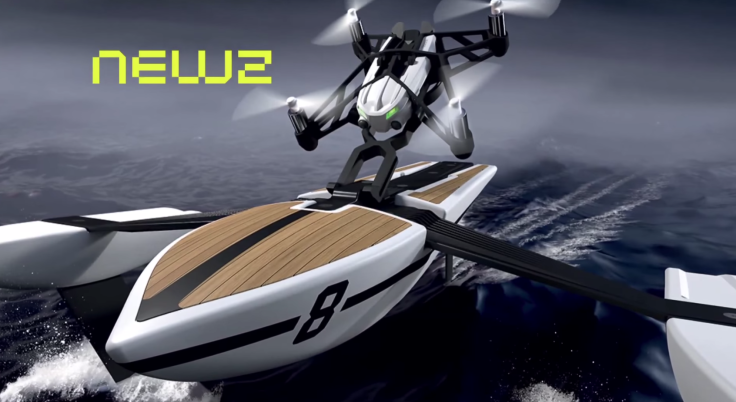 Parrot, the French consumer electronics company known for its line of smartphone-controlled airborne drones, is mixing things up with a baker's dozen of new unmanned vehicles, including two models that are capable of floating and skimming across water. The 13 new drones will go on sale next month.
The Hydrofoil Drones, as they're called, come with a mini airborne drone that acts like a propeller and pushes the gizmo across water. The airborne drone can also be detached from the Hydrofoil's hull and fly on its own. Users can control Parrot's drones by connecting to them with their smartphones either via Bluetooth or Wi-Fi. The Hydrofoil, which can cruise at 6 miles per hour for 7 minutes, comes in two colors and will retail for 169 euros, or roughly $190.
Parrot also announced six drones built for night use with LED headlights. The Night Airborne drones are capable of flying at speeds of up to 11 mph for nine continuous minutes and up to 164 feet away from its pilot. Users can also make the drones' lights flash or blink. The Night Airborne will be available in three colors and is priced at 129 euros, or about $145.
For the ground, Parrot announced the Jumping Night drones, which also come with headlights and can roam around at night at 4 mph for 20 minutes. As you might've guessed, the Jumping Night drones can also jump about 2.5 feet. These drones are available in three different colors and will sell for 199 euros, which is about $220.
If you need more speed, Parrot will also be rolling out the Jumping Race drones, which are similar to the night models but can hit speeds of 8 mph. The Jumping Race drones, which don't come with LED lights, will be available in three designs and will also sell for 199 euros.
Finally, the French company will sell two Cargo Airborne drones, which can fly at 11 mph for 9 minutes, for 99 euros, or about $110. These special gizmos have a cargo hull that can be used to carry around small objects.
© Copyright IBTimes 2023. All rights reserved.