French Montana Blames Malika Haqq For Khloé Kardashian Break Up On 'Keeping Up With The Kardashians' Season 10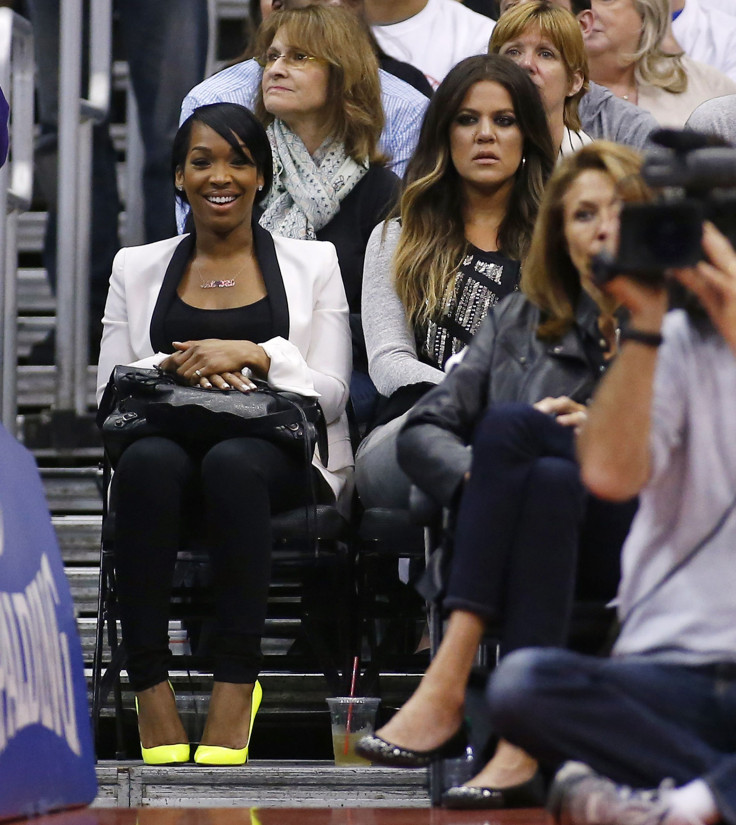 Things got awkward for Khloé Kardashian's bestie Malika Haqq during Season 10, episode 5, of the E! reality series "Keeping Up With the Kardashians." The 32-year-old found herself stuck in the middle of Khloé and French Montana's bad breakup.
As you may recall, Khloé began dating French during "Kourtney and Khloé Take the Hamptons," which was filmed last summer. The pair dated for some time after the series ended but then split in December. They remained close, but decided that a romantic relationship was not for them at that time. Following their split, Khloé requested that Malika, who is not only a close friend but an employee, return the last of the "Don't Panic" rapper's belongings to his home. Malika later admitted it was "probably the most awkward thing I have ever done," adding that she had no interest in getting in the middle of their relationship drama. Unfortunately, things only got more uncomfortable from there.
In an attempt to escape the drama and let loose, Khloé and a few of her closest girlfriends jetted off to Las Vegas. The trip seemed like the perfect way for the 30-year-old to forget her former beau -- except that he was also in town, partying at the same late-night hotspots. Malika became noticeably upset with her longtime gal pal, later revealing that she was not the biggest fan of French. In her one-on-one confessional interview, Haqq shared that she had become extremely protective of Khloé following her separation from husband Lamar Odom in 2013.
"It's been very difficult for me to watch her engage and break up in relationships, so I've become very protective of her," she said. "I mean the best, and it all comes from a very loving place, so this is hard for me."
Much to her surprise, the group ran into French, his brother and a few other members of his crew while enjoying dinner and drinks. Despite their split, Khloé greeted him warmly while simultaneously warning him that he was not exactly welcome to sit at the table with them. Things then took a turn for the worse, with the rapper blaming Malika for their breakup. The New York City native alleged that she had influenced his former girlfriend, which she vehemently denied.
"Whatever happens between y'all is between y'all. I don't want to be in the middle," Haqq said.
After a long and awkward stay in Sin City, Khloé planned a special getaway for her and Malika. The pair took a road trip to a miniature pony farm, which she thought would help mend their broken relationship. Unfortunately Malika remained distant throughout the visit. It was only after a long discussion and a few glasses of wine that the ladies were able to reach a resolution. Malika shared that she felt Khloé should spend less time around her ex, which Khloé wholeheartedly disagreed with. As any good best friend would, Malika chose to respect that decision and distance herself from her friend's romantic endeavors, allowing them to make up and return to normal.
It has since been rumored that Khloé is back with her rapper beau. The former couple have been spotted together multiple times since February, partying, attending concerts, and even vacationing together. Meanwhile, the youngest of the Kardashian sisters is finally being forced to make a decision regarding her marriage to Lamar. TMZ recently revealed that, although she filed for divorce in 2013, Khloé never finalized it. She reportedly received several letters requesting that she take action but chose to ignore them. Her divorce paperwork has since been dismissed, meaning she'll be forced to begin the process all over again should she choose to see it through.
"Keeping up with the Kardashians" airs Sundays at 9 p.m. EDT on E!
© Copyright IBTimes 2023. All rights reserved.