French Open 2014: Can Roger Federer Challenge Rafael Nadal And Novak Djokovic At Roland Garros?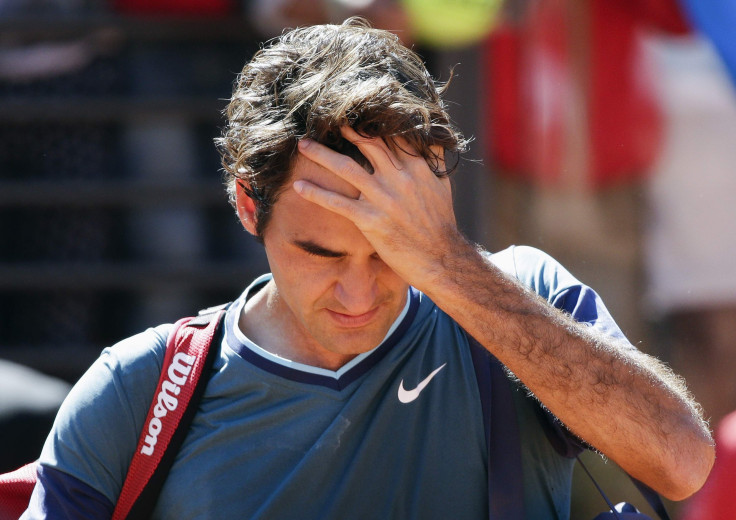 This year has seen the most unpredictable clay-court seasons in recent times. The "King of Clay" Rafael Nadal has lost in quarterfinals of two tournaments he has previously dominated, Novak Djokovic has been hampered by a wrist injury, while the likes of Kei Nishikori and Stan Wawrinka have emerged as credible threats at the business end of tournaments. Can Roger Federer, looking for an 18th Grand Slam title, take advantage to get in the running for a second French Open crown?
After a dismal 2013, this year has seen Federer, with new racquet in hand, return to prominence and end constant speculation over both when the 32-year-old will retire and when he should. After slipping to eighth in the rankings early in the year, Federer is now back up to fourth following a run to the semifinals of the Australian Open and to the final at the Masters Series in Indian Wells.
His clay-court season got off to a promising start, too, reaching the final in Monte Carlo before being denied his first title at the Masters 1000 event by a disappointing loss to compatriot Wawrinka. That momentum has since been checked, however, by more important events off the court. The birth of his second pair of twins led to him pulling out of Madrid, before a doubtless sleep-deprived Federer lost in his first match in Rome last week to Frenchman Jeremy Chardy.
It clearly has not been ideal preparation for the second Grand Slam of the year, which begins on Sunday. What his ambitions are at Roland Garros remain to be seen. A realistic tilt at the title, or simply to go there, enjoy it and get back in the thing of swings ahead of his most prolific Grand Slam in terms of win, Wimbledon?
If he is to add to his record haul of Grand Slams, the last of which he won at Wimbledon in 2012, then, truth be told, it is unlikely to be on the clay in Paris. The slower surface has never been his best and it is increasingly difficult to see him grinding it out over seven best-of-five-sets matches on the physically demanding terre batue.
Still, Federer is hardly a mug on the dirt. He does have a much-coveted French Open crown to his name, won in 2009, and would have had several more and, indeed, be regarded as a great on the surface had it not been for the greatest clay-court player of all time besting him on five occasions.
His performance in Monte Carlo was encouraging, even if it ended in disappointment. And Federer was quick to insist after the loss in Rome how he had been undone by a miraculous shot by Chardy when Federer held match point and that for him everything was still on track.
He is, though, certainly in need of matches. Fortunately his improved ranking means that he will have a greater opportunity to build his way into the tournament. The earliest he can meet either Nadal or Djokovic would be the semifinals. Stiff challenges could still come before that, however. Federer's conqueror in last year's French Open, an admittedly out of form Jo-Wilfried Tsonga, and rising young guns Milos Raonic, Grigor Dimitrov and Nishikori could be potential tough fourth-round opponents. Meanwhile, eighth-ranked Andy Murray played one of his best ever clay-court matches in a three-set defeat to Nadal in Rome. There are undoubtedly now more players who believe they can live with the best on clay.
Yet, for all there has been a refreshing shakeup to the men's game of late, last week's Rome final was still battled out between the world's top two, Nadal and Djokovic. Few would still bet against those two again going toe-to-toe come the final Sunday in Paris. The best-of-five-sets format only increases the chance of their pedigree ultimately prevailing.
Nadal is certainly more vulnerable this year on clay than perhaps he has been since his dominance of the surface began in 2005. Yet, his unmatched battling qualities make him incredibly difficult to oust over five sets. Federer has never accomplished it on clay. Nadal's vicious topspin forehand, which bounces up even higher on Federer's one-handed backhand on clay, presents Federer with an almighty problem that he has yet to solve at Roland Garros. He has only beaten him twice in 15 meetings total on clay and has won just one set in his last five matches against the Spaniard on all surfaces.
While the matchup for Federer against Djokovic is not as problematic, his chances of coming out on top in Paris still look far from encouraging. His clay-court record against the Serbian stands at 3-3, although one of those wins came when Djokovic was still a teenager and another when the current world No.2 had to retire. Federer's most recent win over Djokovic also has something of an asterisk beside it, with Djokovic hampered by his wrist problem in the semifinals of Monte Carlo. Djokovic looked fully recovered when beating Nadal in the final of Rome to give him ideal preparation to try and win his first French Open. Djokovic and Nadal rightfully remain strong favorites and it's tough to see anyone beating either over five sets, let alone both.
In a recent interview with ESPN, Federer said he was "looking forward to the next couple of years" on tour, so there appears little chance that this will be his final chance to add to his solitary French Open crown. But, while his form this year certainly suggests he could be a factor in the latter stages, it is difficult to see him doing any more than that, especially after his recent family-expanding distractions.
© Copyright IBTimes 2022. All rights reserved.
FOLLOW MORE IBT NEWS ON THE BELOW CHANNELS