French Open 2015: Why Serena Williams Is Tuning Up At Indian Wells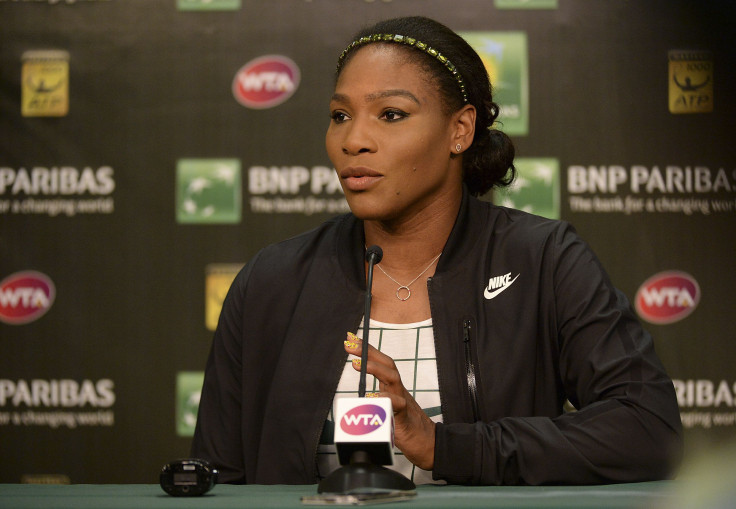 Fifteen years since she, her sister and father allegedly faced racial abuse from spectators at Indian Wells, Serena Williams has made her return to one of tennis's top tournaments and it could serve as a fine tune up for the French Open later this year.
Back in 2001, Richard Williams said: "I think Indian Wells disgraced America." Williams claimed one fan wished he could "skin" him alive, according to CNN. Many fans were reportedly angry Venus Williams had to pull out due an injury, and they wouldn't get to see an all Williams' final. Serena was resoundingly booed by the crowd during the final against Kim Clijsters, but won in three sets.
But ever since, Williams has never returned to the California competition.
Fast forward to present day, with Williams now holding 19 Grand Slam titles, she came back to what is now called the BNP Paribas Open to far more positive adulation.
Admitting it was a difficult decision with many factors to consider, Williams told reporters on Thursday that she wouldn't have come back to Indian Wells unless Venus and the rest of her family were in full support.
"If she didn't support me, I wouldn't be here," Williams said. "If she said, 'Serena, I don't think this is good, I don't think you should go,' there's no chance I would be here right now. She 100 percent supports me and is happy that I'm here, and even encouraged me to come."
Williams also said recent racial tribulations in the United States, as well as her viewing the documentary "Mandela: The Long Walk to Freedom," inspired by legendary civil rights activist and former president of South Africa Nelson Mandela, played a huge role.
"I think a lot of the things that have been happening lately did have a part in the whole picture. It wasn't one thing or two things. It was a lot of stuff," Williams said. "I thought it was good timing, not just for me, but for Americans in general to step up and say we as a people, we as Americans, we can do better, we can be better and we are better."
The 33-year-old Williams is fresh off her fifth Australian Open title, losing only two sets in the first major of the season, and takes the Indian Wells court for the first time in 15 years against Romania's Monica Niculescu in the second round Friday.
Niculescu, ranked No. 68 in the world, earned the right to face Williams after making quick work of No. 77 Russian Aleksandra Krunic in the first round 6-2 6-1.
The 27-year-old Niculescu and Williams have never squared off before, but facing an unknown quantity could help Williams in her preparations for May's trip to Roland Garros.
Williams slipped up slightly prior to each major last year, before ending the year on a high note on the hard courts of the U.S Open for a fifth-career title.
Falling to then-No. 6 Ana Ivanovic in the fourth round in Melbourne, Williams followed up with a straight-sets letdown in the semifinals in Dubai, before largely cruising at the Sony Open in Miami. But she would later make an opening-round exit in Charleston, South Carolina, and was dismissed in the Madrid quarterfinals.
Both likely helped Williams gain some focus for her victory in Rome, losing only one set and besting Sara Errani in the final, but she didn't quite have the momentum heading into the French like in years past and fell to Venezuela's Garbine Muguruza in the second round.
A chance to throw off Muguruza is in the cards for Williams, with the No. 22 ranked player facing American Irina Falconi on Friday as well.
And the rest of the field is loaded some of the world's top ranked women. There's No. 3 Simona Halep, No. 8 Agnieszka Radwanska, and No. 9 Ekaterina Makarova, all stalking the other end of the bracket and likely serving as Williams' potential threats in the later rounds.
© Copyright IBTimes 2023. All rights reserved.
FOLLOW MORE IBT NEWS ON THE BELOW CHANNELS