Friendster CEO's Personal Message: We're Now a Social Gaming Portal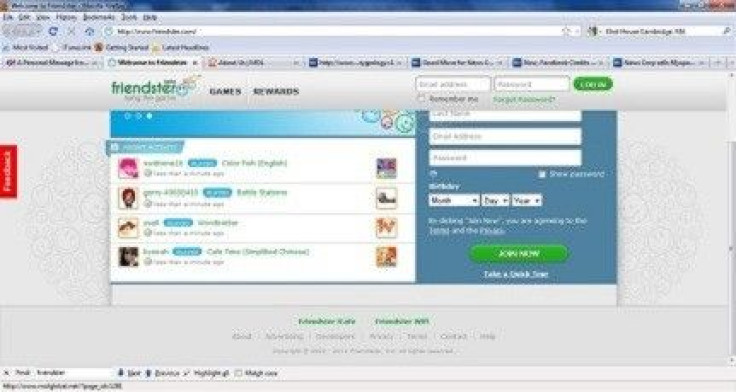 MySpace isn't the only once-dominant social media site trying to reinvent itself. Remember Friendster?
Friendster's CEO sent a personal message to the once-hot social network's members Friday, highlighting the news that the site is relaunching itself as a social gaming portal. Its motto: living the game.
The beta version of the new Friendster went up a few weeks ago. The homepage is focused around games and rewards, avatars, and a constantly scrolling list of the latest game-playing activity.
Today, Friendster is in a unique position to take advantage on the growth of social gaming, wrote CEO Ganesh Kumar Bangah, who is also the head of MOL Global, which bought Friendster Inc. in 2009. Through its relationship with MOL, which has a 10-year history in working with gaming companies, Friendster has both the experience and track record to make innovations in this space.
Bangah said that since MOL acquired Friendster, many people have come up to me to tell me how Friendster has changed their lives. Many have told me that they have found their life partners over Friendster. Just last week, a successful Internet entrepreneur in Singapore told me that her success was triggered by promoting her business on Friendster.
Friendster now describes itself as a niche social network that is highly engaged and focused for young Asians across the world.
MOL has a partnership with Facebook, and on Friendster.com new users are encouraged to join by logging in with Facebook. Still, Bangah referred to his site's glory days in his note.
Friendster pioneered social networking and ignited the social media industry that has created billion dollar companies such as Facebook and Twitter, companies that may not have existed in their present form if not for Friendster's early innovation, he said.
I would like to take this opportunity to thank all of you for your support and hope that all of you will enjoy the new Friendster as Friendster continues to innovate to serve and entertain you better, he concluded.
© Copyright IBTimes 2023. All rights reserved.