Galaxy Note 9: 9 Hidden Features Samsung Forgot To Tell You
The Samsung Galaxy Note 9 is undoubtedly one of the best Android flagship smartphones this year with its set of high-end hardware and software features. That said, the Note 9 has a bunch of hidden features that weren't shown off by Samsung and here are just nine of the most useful ones.
Use The Note 9 As A Wi-Fi Hotspot
This particular feature can be found right inside the Galaxy Note 9's Wi-Fi settings, as reported by Guiding Tech. Users will simply have to tap on Connections under Settings and open the Mobile hotspot and tethering options. Users will have to turn on Wi-Fi sharing and Mobile Hotspot to enable the Wi-Fi hotspot feature.
When this is activated successfully, other users that are close by will be able to connect to the Note 9 as a Wi-Fi network. The owner of the Note 9 can also setup a password to deter strangers from randomly connecting to the mobile network.
Best Possible Screen Resolution
The Galaxy Note 9 comes with a 6.4-inch 2960 x 1440 resolution display. However, some users may not be aware that the Note 9 doesn't use the full resolution straight out of the box. By default, the screen resolution of the handset is set at FHD+ resolution at 2220 x 1080. It's very likely that Samsung did this to preserve battery life.
Fortunately, adjusting the screen resolution is quite easy. Users will simply have to open up Settings and tap on Display. They should see the "Screen resolution" option in the page and it shows the default 2220 x 1080 resolution of the screen. Users will simply have to tap that then drag the slider to WQHD+ to set the Note 9's display to 2,960 x 1,440, according to Digital Trends.
Write In White On Black For Screen Off Memo
The Samsung Galaxy Note 9 is available in blue, copper and purple color options. The stylus color isn't just for the phone's aesthetic either since it also dictates the color the S Pen will write on the Screen Off Memo. for example, if a user has a blue Note 9, it will have a yellow S Pen that also writes in yellow when using Screen Off Memo.
Users can toggle this off and just simply write in white on the screen. This setting can be enabled by going to Advanced Features under Settings and tapping S Pen. There should be an option for "Screen off memo." Tapping this will open a page where users can turn off the "Use S Pen signature color" option.
Enable One-Handed Mode
The Galaxy Note 9 is quite a huge phone with its 6.4-inch display. It's understandable that some users may have a hard time using the phone with just one hand. Luckily, there's actually a setting that enables one-handed mode to make navigating the phone's user interface a little bit easier.
To activate one-handed mode on the Galaxy Note 9, users will have to open Settings and tap on Advanced Features. There should be a toggle there that will allow users to enable one-handed mode. As Android Police pointed out, when this is turned on users can swipe in from the bottom corner to shrink the screen down to one side. Users can exit one-handed mode by simply tapping on the unused area of the screen.
Longer Slow-Mo Videos
Like the Galaxy S9, the Galaxy Note 9 allows users to take 960fps Super slow-mo videos. The Note 9's feature has been upgraded, allowing users to shoot 0.2 seconds of video at the highest frame rate available. What most people don't know is that they can actually shoot 0.4 seconds of video at 960fps.
To enable this on the Camera app, users will simply have to tap on the "0.2" button that's located above the shutter button. It's important to point out that Super slow-mo 0.4 second videos are only available at standard quality 480p resolution, while using the 0.2 seconds setting will result in HD quality 720p resolution.
Hide Photo Albums
Some users may have some sensitive images on their smartphones that they prefer to stay hidden. On the Galaxy Note 9, there's actually an option to hide photo albums in the Gallery app. Users will simply have to tap on the three-dot button on the upper right corner of the Gallery app and that should bring up an option labeled as "Hide or unhide albums." Tapping on this will allow users to select albums they want to hide before they tap on "Apply."
Open Apps By Pressing The S Pen Button
One of the new features on the Galaxy Note 9 S Pen is the ability to open any app by pressing its lone button. Users can access this feature by going to Settings and tapping on Advanced features. From there, they should tap on S Pen and then S Pen remote. Users should tap the option labeled as "Hold down button to…" and they should see a list of apps that they can open with the action.
Use The S Pen As A Remote
One of the new features of the S Pen is that it has Bluetooth connectivity with the Note 9. This allows users to turn the stylus into a remote for some apps. For example, when using the front-facing camera, users can single tap the button on the S Pen to take a picture.
To access this feature, users will need to head to Settings then open S Pen and S Pen Remote. There should be an option called "App Actions," which will allow users to customize the functionality of single and double press of the S Pen's button for different apps.
Use The S Pen To Unlock The Note 9
Users will be able to unlock the Note 9 by simply pressing the button on the stylus. This particular feature is useful for when the Note 9 locks automatically while the S Pen is being used. The feature can be enabled under S Pen Settings by turning on "Unlock with S Pen Remote." This feature will only work when Smart Lock is enabled.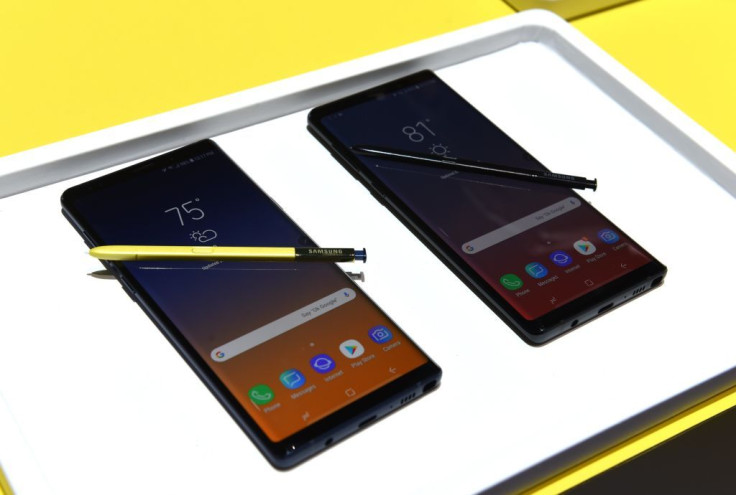 © Copyright IBTimes 2023. All rights reserved.