'Game Of Thrones' Season 4 Spoilers: The 'Purple Wedding' Will Make Fans Forget About 'The Red Wedding'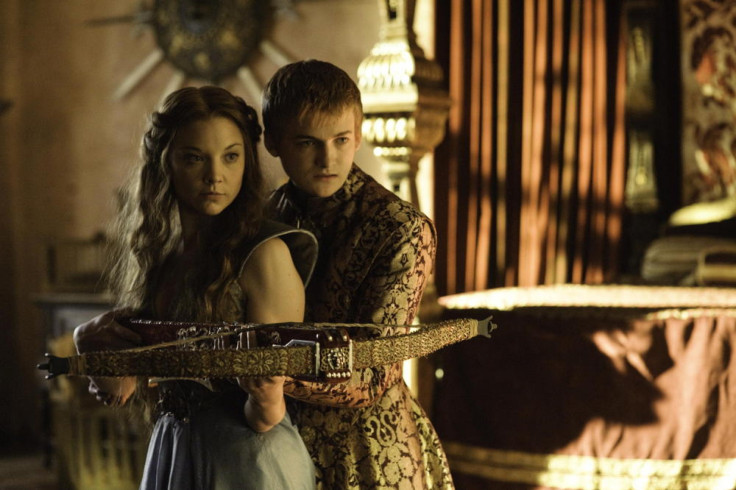 "Game of Thrones" spoilers are beginning to surface, and the source is none other than series author George R.R. Martin. Following the tragic "Red Wedding" in the third season, the "Purple Wedding" will continue the trend of eventful nuptials.
Be advised: Full "Game of Thrones" spoilers ahead.
Wedding bells are ringing again in "Game of Thrones," and that's usually a sign of big changes to come. In the third season of "Game of Thrones," the much anticipated "Red Wedding" did not disappoint, shocking fans who had only watched the HBO series while those who had read the book could finally discuss the deaths of Robb Stark, his wife, Catleyn Stark and thousands of his soldiers. The betrayal led by Lord Walder Frey, with the help of Tywin Lannister, dramatically altered "Game of Thrones," and while winter is still coming, the fourth season will naturally deal with the fallout from the tragic wedding.
Speaking to TV Guide, Martin discussed the upcoming wedding of Joffrey Baratheon (Jack Gleeson) and Margaery Tyrell (Natalie Dormer). Martin said, "It's going to be the wedding of the year, and as memorable in its own way as our wedding last season." Martin notes the Purple Wedding was dubbed such by fans as the wine served at the feast will play a pivotal role in setting up some crucial scenes. Martin also revealed that the wedding itself will be an extravagant affair, featuring a rose-inspired dress, 77 different courses and "some wonderful halftime entertainment," said Martin to TV Guide.
Of course, Martin is referring to the poisoned wine that leads to the death of Joffrey. While it is not immediately clear who actually poisoned Joffrey during the wedding, the blame naturally falls on Tyrion Lannister (Peter Dinklage) and Sansa Stark, who are quickly accused of murdering the king. During the feast, Joffrey is embarrassed by his uncle after Tyrion refuses to partake in some of the festivities. Joffrey humiliates Tyrion and forces him to be his cupbearer for the rest of the night, making him a likely suspect, while Sansa, Tyrion's wife and daughter of the "traitor" Eddard Stark, is another easy target.
"Game of Thrones" will return for its fourth season on HBO during the spring of 2014. Prior to the season premiere, there have been plenty of developments, including the casting of the Red Viper, Oberyn Martell.
© Copyright IBTimes 2023. All rights reserved.