'Game Of Thrones' Season 6 Premiere Leaves Fans With Hope For Jon Snow Storyline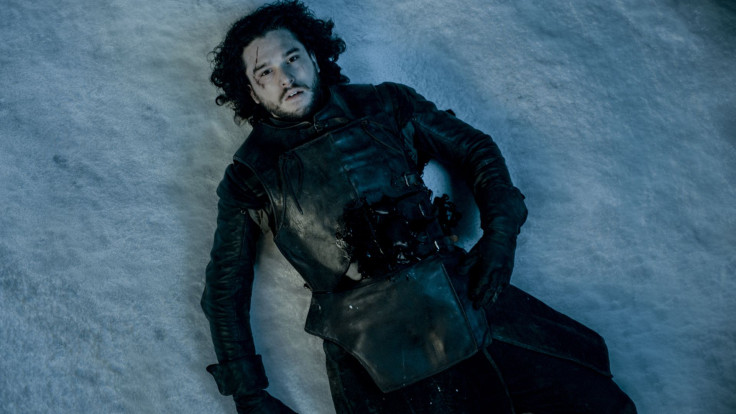 Jon Snow (Kit Harington) isn't the only one who "knows nothing." "Game of Thrones" Season 6 premiered Sunday night, but did not give a definite answer to the fate of the former Lord Commander of the Night's Watch. However, some feel there was a hint of good things to come for Snow.
Episode 1 of Season 6 started right where Season 5 left off, with a lifeless Snow lay in the snow surrounded by his own blood. Ser Davos Seaworth (Liam Cunningham) finds Snow and has a few men still loyal to the Lord Commander pick up his body. Davos, Eddison Tollett (Ben Crompton) and a few other members of the Night's Watch prepare to fight those who killed Snow.
When Tollett goes to tell Tormund Giantsbane (Kristofer Hivju) about what happened to Snow, Davos and the other men lock themselves in a room with Snow's direwolf Ghost. Alliser Thorne (Owen Teale) has given the men until nightfall to put down their swords and surrender, while giving Davos the chance to head south. Davos tells Thorne they'll discuss what they want to do and tells the men the "Red Woman" Melisandre (Carice van Houten) could possibly help them.
The big jaw-dropping moment in episode 1 came at the very end when Melisandre took off her necklace and it was revealed she's actually a very old woman. Many "Game of Thrones" fans took to Twitter to share their theories on how Melisandre's magical twist in the final moments might bring Jon Snow back to life. Others also shared other optimistic tweets that we haven't seen the last of Snow.
In George R.R. Martin's books, "A Song of Ice and Fire," Lord Beric Dondarrion (Richard Dormer) from Season 3 sacrifices his life in order to bring Catelyn Stark (Michelle Fairley) back from the dead a.k.a Lady Stoneheart. So far the showrunners of "Game of Thrones" have chosen not to bring this storyline to the screen. However, they may be putting their own twist on bringing a beloved character back to life by having Melisandre give her life to save Jon Snow.
"Game of Thrones" Season 6 airs Sundays on HBO at 9 p.m. EDT. Do you think Jon Snow will be back? Soundoff in the comments section below!
© Copyright IBTimes 2023. All rights reserved.
FOLLOW MORE IBT NEWS ON THE BELOW CHANNELS