'Game Of Thrones' Season 6 Spoilers: Leaked Pictures Reveal Daenerys' Fate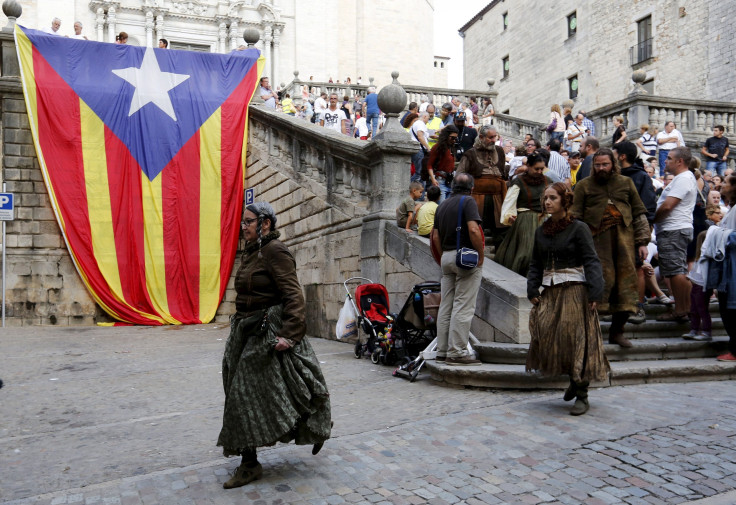 Leaked pictures from the production set of "Game of Thrones" Season 6 show cast member Emilia Clarke filming a scene. The pictures reveal the fate of the character after the cliff-hanger ending in the previous season.
[Spoiler alert]
A picture posted on DiarioDeNavarra shows Clarke (Daenerys Targaryen) riding a white horse and is followed by what appears to be a Dothraki horde. The previous season of the TV series ended with Drogon carrying Daenerys far away and she was standing alone when suddenly a large group of Dothraki riders surrounded her.
Daario Naharis (Michiel Huisman) had set out to find the Mother of Dragons and the character will be able to find Daenerys in the next season. Huisman can be seen riding his horse next to Clarke in the leaked pictures. The addition of the large Dothraki horde to Daenerys' army will bolster her preparedness to travel to Westeros and the character may once again be called Khaleesi in "Game of Thrones" Season 6.
More pictures from the production set of the show have been posted on CaballeroDelArbolSonriente. The scene involved Daenerys leading the Dothraki through a valley and the scene was filmed from inside a tent setup by the production crew.
The pictures do not show Iain Glen (Jorah Mormont) to be present while this scene was being filmed. The character had contracted the dreaded Greyscale disease and was also banished by Daenerys in the previous season. The character was later tasked with finding Daenerys, along with Daario, while Tyrion (Peter Dinklage) was made to find a way to keep the peace in the city of Meereen.
Meanwhile, another production team of the show is currently in Ireland. A picture posted on Instagram by one of the fans from the production set in the country shows the crew building a castle set with a draw bridge. Another picture of the set shows that the site is close to a river and the castle set may involve a drawbridge.
Commenting on the pictures, some of the fans pointed out that there is a sigil of House Tully in this location. This suggests that scenes involving House Tully, which is the House that Catelyn (Michelle Fairley) belongs to, will be seen in "Game of Thrones" Season 6.
© Copyright IBTimes 2023. All rights reserved.