'Game Of Thrones' Spoilers: 4 Reasons Littlefinger's Death Seems Likely In Season 7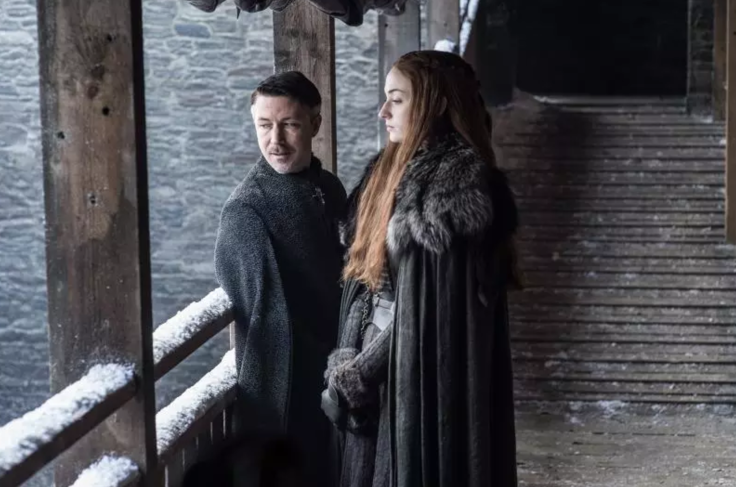 With Season 7 of "Game of Thrones" set to premiere in just a week and a half's time, fans are desperate to figure out which of their favorite characters will die before it's over. Now, a batch of evidence seems to suggest that Peter Baelish, a.k.a. Littlefinger, will be the biggest character to perish before the season comes to an end.
Littlefinger (Aidan Gillen) has been one of the biggest and most influential characters on "Game of Thrones" since the beginning. He revealed early on that he had no real loyalty to anyone unless they best served his own interests, turning on Ned Stark (Sean Bean) in Season 1 and getting him sent to prison for accusing Cersei (Lena Headey) of passing off an illegitimate son as the heir to the crown following Robert's (Mark Addy) death. He has since been the force behind Joffrey (Jack Gleason) and Lysa's (Kate Dickie) deaths, Sansa's (Sophie Turner) brutal marriage to Ramsay Bolton (Iwan Rheon), and several other events. But, a closer look at some evidence seems to suggest that Littlefinger's luck will run out in Season 7, and he will finally pay for the schemes and manipulation he has been behind.
Read: Sophie Turner Learned An Unexpected Lesson On The "Game Of Thrones" Set
Here are four things that likely hint at Littlefinger's death in Season 7:
The Major Spoiler Leak:
Back in November of 2016, what was believed to be the entire plot of Season 7 was leaked online. In those reveals, it was stated that Littlefinger would finally die, after threatening the Stark family. Arya (Maisie Williams), who has become significantly more dangerous over the years now that she's had training as a Faceless Man, was rumored to carry out the sentence. Littlefinger allegedly threatens Sansa, threatening to expose a letter she wrote to Robb (Richard Madden) when she was still with the Lannisters, against her, something that would set Arya against her older sister. However, Sansa is allegedly supposed to expose the blackmail with her brother Bran's (Isaac Hampstead-Wright) help, and Arya will then execute the biggest schemer in Westeros. Though this spoiler could have since been changed during the show's production, other evidence also seems to back up the claim.
A Big Set Photo Spoiler:
The theory may have been partially confirmed further back in May, after Entertainment Weekly did a huge photo spread with the entire Stark family clan on their cover. The image, which features Sansa, Bran, Arya and Jon Snow (Kit Harington) all reunited, also featured what could be a huge clue that confirms Arya will kill Littlefinger.
Arya's belt that she wears in the photo shows a knife clipped to it, one that looks like one—an original nonetheless-- Littlefinger said had once been his back in Season One, though he claimed at the time to have lost it to Tyrion (Peter Dinklage). That had been a lie to get Catelyn (Michelle Fairley) to believe that Tyrion tried to murder Bran. The fact that Arya has it in the photo now seems to suggest that Littlefinger has met his maker, hence why the knife is now in her possession.
Aidan Gillen's Own Interview With Entertainment Weekly:
In his own interview with EW back in June, Gillen seemed to hint that anyone who is a fan of his character should be prepared for him to make a fatal mistake in Season 7, especially as he continued trying to play Sansa against the rest of her siblings. Admitting his character knows Sansa has grown wiser to him, he said that Littlefinger would take some bigger risks this time around than he has before.
"With carefully laid plans there's always a bit of risk involved," he said. "He puts himself in a situation that could backfire on him. But I think he likes that. His plans are never fail safe. But he puts himself on the line like a good gambler."
Read: Everything We Know So Far About Seasons 7 And 8 Of "Game of Thrones"
Littlefinger Is A "Huge Problem" For Lord Royce Of The Vale:
During the recent Con of Thrones, Rupert Vansittart, who portrays Lord Yohn Royce, and is currently keeping Robin (Lino Facioli) safe until he's ready to assume his official title as the Lord of the Vale, discussed how Littlefinger is a "big problem" for him in the new season, especially after he was seemingly put in his place when Littlefinger proved how much influence he has over Robin back in season 6. In the new season, Vansittart seemed to tease that he will still have a problem with it.
"This is not a man who Yohn Royce, as an aristocrat, would ever want to be dealing with, would ever want to be taking orders from," he revealed.
To find out if Littlefinger does in fact die during Season 7, fans will need to start watching when "Game of Thrones" returns to HBO on Sunday, July 16 at 9 p.m. EDT.
© Copyright IBTimes 2023. All rights reserved.