'Game Of Thrones' Stars Kit Harington And Rose Leslie Are Married
Jon Snow and Ygritte made the big mistake of leaving their special cave, but their real-life portrayers have officially not suffered a similar star-crossed fate as their "Game of Thrones" characters.
Kit Harington, who still portrays the not-so-much a Stark bastard on the hit HBO series, and Rose Leslie, who portrayed his Wilding love from Seasons 2-4, officially tied the knot in a ceremony held in Aberdeen, Scotland, on Saturday. Photos of the couple following their church ceremony can be found HERE.
Leslie, 31, wore a gorgeous gown featuring lace sleeves and a cathedral-length veil for her nuptials to Harington, also 31. He also had a dapper look for the occasion, with pinstriped pants, a cream-colored vest, and a black suit jacket.
Fans can breathe a sigh of relief, as he also kept his long curly locks and beard intact, meaning he is likely still filming his final episodes of the hit series, which is officially wrapping up production in a few days and is expected to air its final episodes in 2019. Harington has already revealed he intends to chop off his hair following his iconic role's end.
Though photos of them have not yet been released, it is reported that several members of the "Game of Thrones" cast are present for the nuptials. According to Harpers Bazaar, Sophie Turner, Emilia Clarke, and Peter Dinklage were all spotted arriving in the town earlier this week.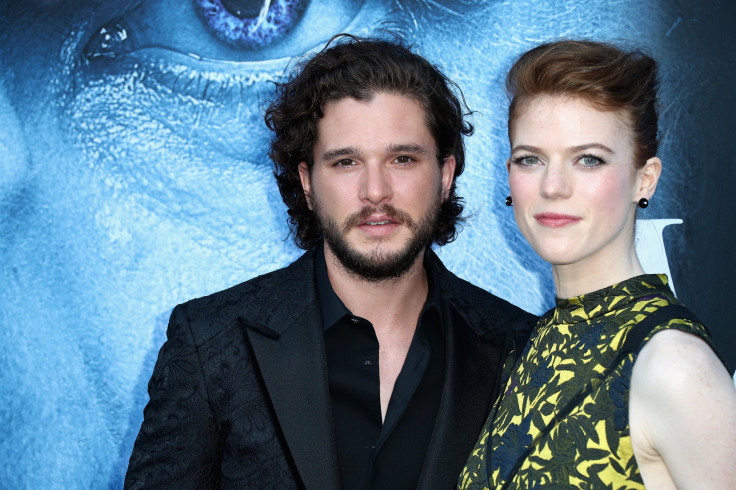 After their engagement news went public last year, Harington revealed he actually asked for the show's production to be shut down for at least a day so that the pair, who met on set, would be able to include their co-stars and friends in their big day.
'I rang [the producer] up and I said, 'I'm getting married and it's your fault actually,'" he told the Jonathan Ross Show (via Radio Times). "I think for the final season he is so stressed that he's reached that peaceful level."
"I was like, 'You need to factor in a 'Game of Thrones' wedding by the way.' They [the cast] have all got to be there so the whole thing has got to shut down," he added.
In terms of the cast members who have already been spotted, both Turner and Clarke have already wrapped filming.
As for the wedding itself, the couple appears to have taken some inspiration from the series that brought them together. Not only did they have stamps on their invitations which featured Jon Snow on them, but the two are actually having their reception in a castle.
And while on the show, Jon Snow was the one who grew up in a castle as the alleged bastard son of a great Lord and the Warden of the North, this time around, it is Leslie who gets to be the more regal of the two. Wardhill Castle, where the reception is taking place, is on the grounds of her family estate.
© Copyright IBTimes 2023. All rights reserved.