'Gears Of War: Ultimate Edition' Comes With All Four Backwards Compatible Games In The Series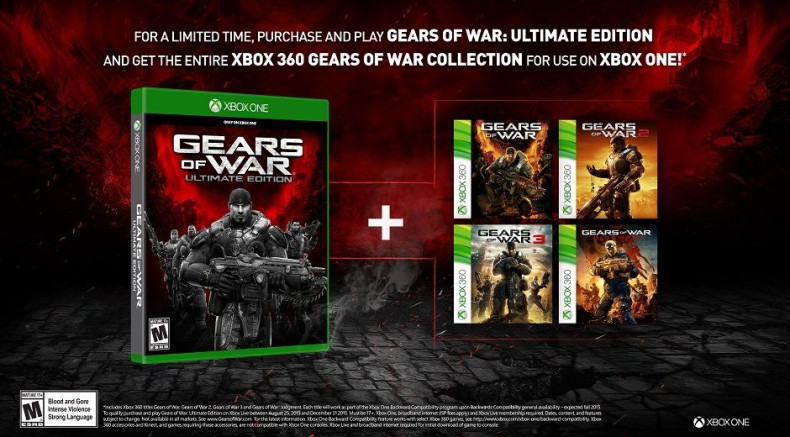 For a limited time only, those who purchase the "Gears of War: Ultimate Edition" will also get the Xbox 360 versions of its sequels, all of which will be backwards compatible on the Xbox One, Microsoft and "Gears of War" studio The Coalition announced on Xbox Wire. The companies also confirmed the four titles that will be joining the "Gears of War: Ultimate Edition": "Gears of War" for the Xbox 360, "Gears of War 2," "Gears of War 3" and "Gears of War: Judgment."
Xbox One users who are currently participating in the console's preview program can play their old Xbox 360 copy of the original "Gears of War" right now, Polygon reported. Fans who already have a copy of the other three games in the series will have to wait for the "Gears of War: Ultimate Edition" to launch before the older copies of the sequels can gain backwards compatibility on Xbox One.
After the "Ultimate Edition" is launched, the other "Gears of War" games will also have access to Xbox One features. Players will be able to use Game DVR, take screenshots and use Snap with their 360 versions of the "Gears of War" series. Save data transfers and other add-ons that come with the older console editions of the games can also be accessed on the Xbox One version via Xbox Live.
"Gears of War: Ultimate Edition" is a complete remastering of the original game, with graphics that were built from the ground up to achieve the look and quality fit for next-gen consoles. The game will also have redone cinematics, new maps and gameplay modes, as well as a number of new achievements to gain. Fans who purchase the game will also have early access to the multiplayer beta of the upcoming "Gears of War 4." The "Gears of War: Ultimate Edition" bundle with four bonus games will only be available Aug. 25-Dec. 31.
Gears of War Ultimate Edition Comparison (Credit: YouTube/GameSpot)
© Copyright IBTimes 2022. All rights reserved.