'General Hospital' Spoilers: Will Britt Die After Saving Josslyn From The Hook Killer?
Britt did not hesitate to save Josslyn's life from the hook killer, but on the Wednesday, Jan. 4 episode of "General Hospital," Britt's brave decision may have deadly consequences.
In the ABC promo video, Liesl (Kathleen Gati) asks Britt (Kelly Thiebaud) what has happened to her. "GH" spoilers suggest Liesl springs into action after Britt's collapse.
In the previous episode, Britt fought off the hook killer, who was later revealed as Heather Webber (Alley Mills), just as she was about to stab Josslyn (Eden McCoy).
A struggle ensued between Britt and the hook killer until Dex (Evan Hofer) arrived and shot at Heather, scaring her off.
Britt later returned to the Haunted Star to spend time with Liesl, she discovered she was nicked by the hook killer and collapsed. Viewers are aware that the hook killer's blade is laced with deadly venom.
It appears Liesl will do her best to save Britt following the attack. Will they make it to the hospital in time for Britt to receive the antidote for the venom, or will Britt die from the hook killer's attack?
Elsewhere in the promo video for the ABC soap opera, Spencer (Nicholas Chavez) tells Nikolas (Marcus Coloma) that Esme (Avery Kristen Pohl) is going to blow him out of the water.
"General Hospital" spoilers reveal Nik and Liz (Rebecca Herbst) put their heads together.
In the previous episode, Nikolas informed Elizabeth that Esme jumped off the parapet into the water and escaped. They later learned Esme was taken to "GH" and feared she would tell authorities they held her captive.
It appears Liz and Nik will try to come up with a plan, so they aren't arrested for holding Esme captive. Will Nikolas and Elizabeth outsmart the mischievous young woman before she tells the authorities the truth?
Other "GH" spoilers tease Cameron (William Lipton) and Scott (Kin Shriner) catch up, Trina (Tabyana Ali) voices her doubts, Laura (Genie Francis) visits Ava (Maura West), and Dante (Dominic Zamprogna) interrogates a patient at GH.
"General Hospital" airs on weekdays at 3 p.m. EST on ABC.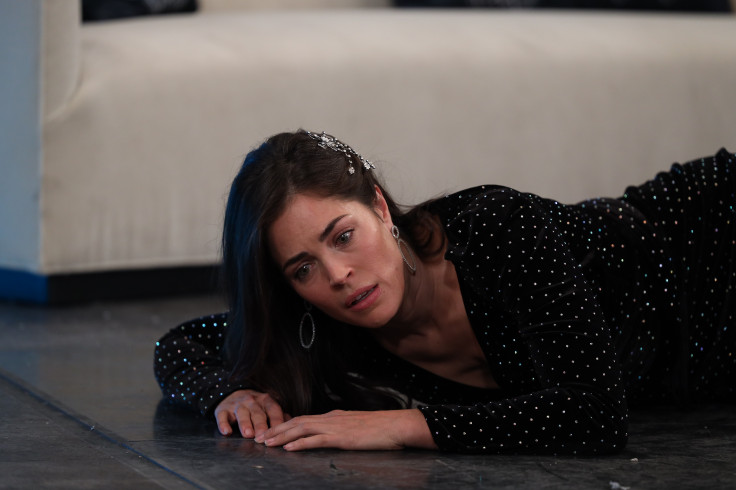 © Copyright IBTimes 2023. All rights reserved.