'General Hospital' Spoilers: Will Nikolas Convince Victor He's Dating Elizabeth To Hide Esme?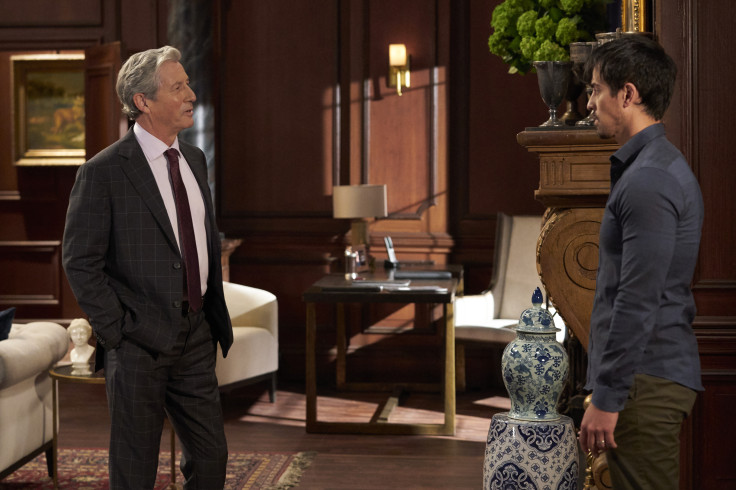 Nikolas' plan to keep Esme's pregnancy a secret is quickly falling apart, and on the Monday, Nov. 28 episode of "General Hospital," Nikolas may allow Victor to believe a lie to cover up the truth.
In the promo video for the ABC soap opera, Victor (Charles Shaughnessy) tells Nikolas (Marcus Coloma) he knows exactly what is going on. "GH" spoilers reveal Victor jumps to the wrong conclusion.
Victor has been eager to move into Wyndemere Castle, but Nikolas has been trying to delay the arrangement because he is holding Esme (Avery Kristen Pohl) captive.
Viewers are aware that Nikolas has also been calling on Elizabeth (Rebecca Herbst) to take care of Esme's medical needs. After Esme returned to Port Charles, she claimed she was pregnant with Nikolas' baby.
Nikolas locked Esme in an isolated part of the castle because the police suspected she was the hook killer, and he didn't want her to give birth to their baby in jail.
It appears Victor will show up during one of Elizabeth's visits and begin to make inaccurate assumptions.
Will Victor suspect Nikolas doesn't want him to move in because of an affair with Elizabeth? Or will he assume Nikolas has been helping Esme evade the police all along?
Elsewhere in the ABC promo video, Laura (Genie Francis) tells Holly (Emma Samms) she won't take no for an answer. "General Hospital" spoilers reveal Holly makes a desperate move.
In the previous episode, Holly drugged Robert (Tristan Rogers) so she could steal the ice princess diamonds for Victor.
However, before she can meet with Victor, she will run into Laura, who will insist on having a conversation. Will Holly warn Laura that she needs to be alone, or will she take matters into her own hands?
Other "GH" spoilers tease Scott (Kin Shriner) gets an unexpected call, Kevin (Jon Lindstrom) and Mac (John J. York) seek Ava's (Maura West) assistance, and Dante (Dominic Zamprogna) questions Heather (Alley Mills).
"General Hospital" airs on weekdays at 3 p.m. ET on ABC.
© Copyright IBTimes 2023. All rights reserved.
FOLLOW MORE IBT NEWS ON THE BELOW CHANNELS