'General Hospital' Spoilers: Will Spencer Help Jordan Prove Esme Drugged And Framed Trina?
Spencer took a risk trying to save Trina and ended up getting arrested, but on the Wednesday, Aug. 3, episode of "General Hospital," his time at the police station may help prove Esme framed Trina.
In the ABC promo video, Spencer (Nicholas Chavez) makes a phone call telling someone he has been arrested and needs help. "GH" spoilers reveal Jordan (Tanisha Harper) questions a person in custody.
During Trina's (Tabyana Ali) trial, Spencer testified that he snuck out of jail and ran into Trina at the same time Josslyn (Eden McCoy) and Cameron's (William Lipton) sex tape was leaked.
After the trial ended, Jordan arrived to arrest Spencer. It appears the two will end up at the police station where Spencer will place a call for help.
While he waits for the person to arrive, Jordan will have some questions for him regarding the drug he asked Britt (Kelly Thiebaud) to test.
Jordan believes Esme (Avery Kristen Pohl) drugged Trina with the same pill that was used to drug the bartender who sold Esme the stolen phone.
Will Spencer be able to help the police expose the truth about Esme, or will they have to find another way to prove Trina's innocence?
Elsewhere in the promo video for the ABC soap opera, Nikolas (Marcus Coloma) tells Ava (Maura West) that she has a motive for murdering Esme. "General Hospital" spoilers suggest Nikolas will not want to involve the police.
After Ava accidentally threw Esme off of the parapet at Wyndemere, Nikolas insisted that they needed to get their stories straight. Although Ava wants to call the police, Nikolas will remind her that since she did not like Esme, authorities will suspect that had a reason to kill the young woman.
Will Ava go along with Nikolas' plan, or will she reconsider calling the police to tell her side of the story?
Other "GH" spoilers tease Nina (Cynthia Watros) crosses with a keyed-up Sasha (Sofia Mattsson) at the Metro Court Garden, Josslyn brings Cameron up to speed on Trina's trial, and Brando (Johnny Wactor) seeks Sonny's (Maurice Benard) guidance.
"General Hospital" airs weekdays at 3 p.m. ET on ABC.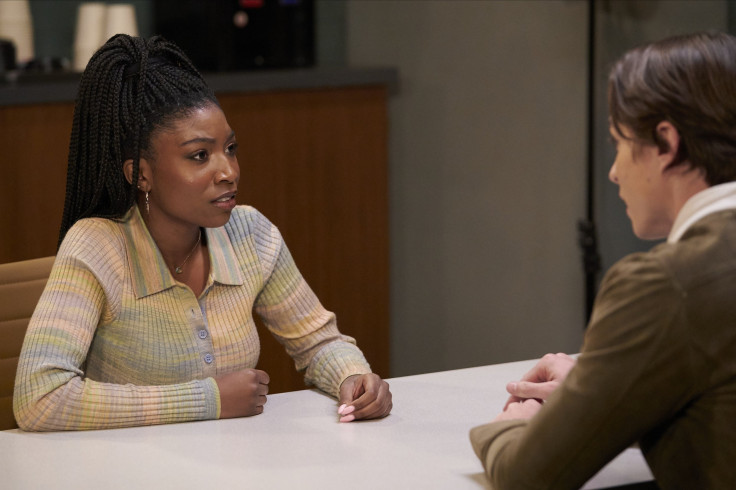 © Copyright IBTimes 2023. All rights reserved.