George Clooney Takes Wife Amal Clooney To His Hometown For Family Reunion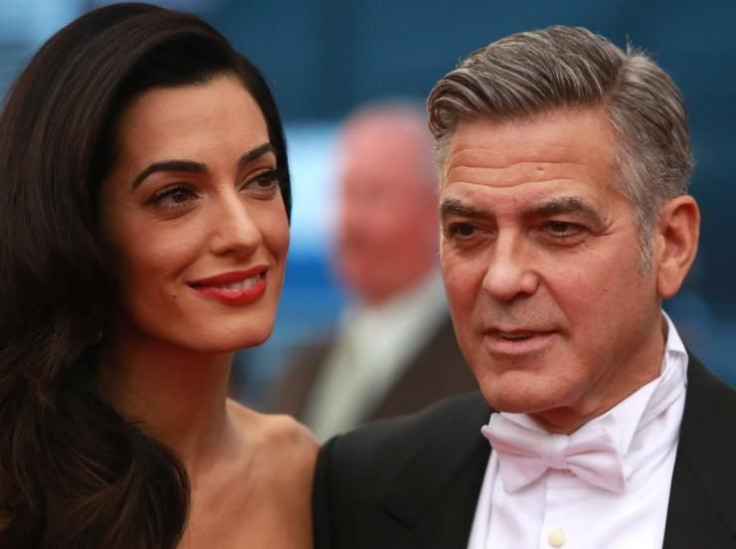 George Clooney took wife Amal to visit his hometown of Augusta, Kentucky Wednesday for his family's annual reunion. The pair even stopped by the actor's favorite local bakery, Magee's.
"They were fun as a couple!" Magee's co-owner Russell Dickson told Us Weekly Thursday. "His family has been a customer for years, so I kind of half grew up with him always hanging around the bakery. He stops in maybe once a year or so."
Dickson said Clooney has a bakery favorite. "They ordered the Transparent, that's his thing, he loves the Transparent," he said, referring to the sweet southern pie that includes sugar, flour and eggs.
The "Tomorrowland" actor recently gushed about his wife to Entertainment Tonight on May 7. "She's an amazing human being," he said. "And she's caring. And she also happens to be one of the smartest people I've ever met. And she's got a great sense of humor. There's a number of reasons why." He also praised her work ethic and fashion sense.
Clooney, 54, proposed to Amal, 37, in April 2014 after seven months of dating. The couple have been married for eight months.
They wed in Italy on Sept. 27, 2014 in a ceremony that reportedly cost $13 million. The affair included celebrity guests Matt Damon, Julia Roberts, Brad Pitt and Angelina Jolie. The soiree lasted three days and Clooney shipped in 100 cases of his own brand of tequila, Casamigos, in honor of the celebration.
This is Clooney's second marriage. He was married to actress Talia Balsam from 1989 to 1993. He claimed he'd be a lifelong bachelor following the divorce but changed his mind when the Lebanese-born attorney.
© Copyright IBTimes 2023. All rights reserved.