George Floyd Protests: Trump Calls Minneapolis Mayor 'Weak', Promises Military Support To Governor Walz
KEY POINTS
President Trump tweeted criticism of Minneapolis Mayor Jacob Frey's handling of the George Floyd protests
Trump also offered military aid to Minnesota Gov. Tim Walz, who has activated his state's National Guard
Protests have turned violent across the U.S. over Floyd's death
President Donald Trump took to Twitter to promise military assistance to Minnesota Gov. Tim Walz after the third night of violent protests over the death of George Floyd.
In the tweet, Trump criticized Minneapolis Mayor Jacob Frey over his response to the protests and called him "weak."
Walz, a Democrat, has activated over 500 members of the Minnesota National Guard to respond to the protests in Minneapolis, while Frey declared a state of emergency until Sunday.
A total lack of leadership. Either the very weak Radical Left Mayor, Jacob Frey, get his act together and bring the city under control, or I will send in the National Guard and get the job done right," Trump said.
In a second tweet, Trump called rioters "thugs" and claimed he called Walz to offer military support if he needed it.
"These thugs are dishonoring the memory of George Floyd, and I won't let this happen. Just spoke to Governor Tim Walz and told him that the Military is with him all the way. Any difficulty and we will assume control but, when the looting starts, the shooting starts," the tweet read.
Twitter flagged the tweet by affixing a warning label, saying it violated the company's rule against glorifying violence. The label means the tweet will not be removed, but will be hidden by a notice that says "this Tweet violated the Twitter Rules about glorifying violence. Twitter users can view Trump's tweet by clicking past the notice.
The protests have turned violent, with reported damages to several businesses over three nights. Target has reportedly closed more than 20 locations in and around Minneapolis after one store was looted.
The protesters, who went unchecked Thursday, massed outside the Third Precinct police station, the epicenter of the protests Wednesday, and set it on fire. Police withdrew while that happened, National Guard troops and fire deparment were reportedly absent.
At a news conference Friday, Frey said he was not aware of Trump's tweets. Frey later responded, "Weakness is refusing to take responsibility for your own actions. Weakness is pointing your own finger at a time of crisis."
He also said that Trump did not know of the strength of his city.
"We are strong as hell. Is this a difficult time period? Yes. But you better be damn sure that we're gonna get through this," he said.
Officers in Minneapolis are being assisted by the National Guard, first responders and around 200 troopers from the Minnesota State Patrol.
George Floyd, a 46-year-old African-American, was arrested over Memorial Day weekend by four Minneapolis police officers. In several viral videos, Floyd was heard saying "I can't breathe" as a white police officer pinned him to the ground by his neck with his knee.
Floyd later died at a nearby county hospital.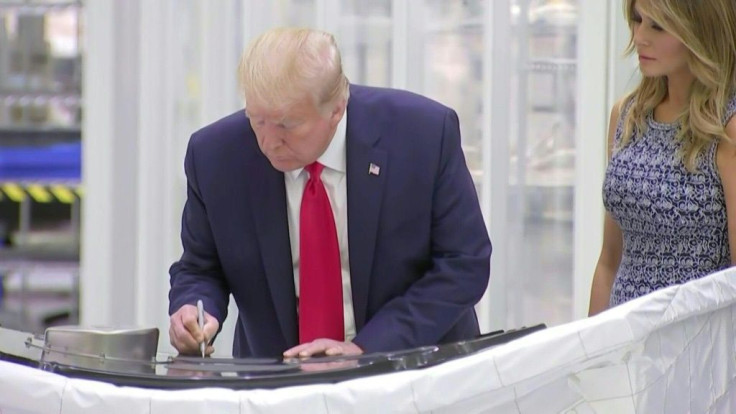 Protests over Floyd's death have erupted across the U.S., many turning violent. Protesters in Los Angeles blocked a highway and attacked patrol cars Wednesday (May 27).
70 protesters were arrested in New York Thursday following violent clashes with police, resulting in at least one injury. Protesters reportedly hurled bottles and shouted insults at police.
Protesters in Denver, Colorado, shut down a highway as they marched Thursday. Shots were fired into a crowd gathered outside the Colorado State Capitol. No casualties have been reported.
© Copyright IBTimes 2023. All rights reserved.