George Floyd's Brother Begs US Protesters To Stop Looting: 'What Are Y'all Doing'
KEY POINTS
Terence Floyd, George Floyd's brother, on Monday visited the street where his brother died
He made an impassioned appeal for non-violence during the protests
His brother will be buried in Houston on June 9
The street where George Floyd died on May 25 -- 38th and Chicago in South Minneapolis -- has become a memorial festooned with flowers, prayers and words of condolences for the 46-year-old African-American, daily visited by people that pay their respects and pray.
On Tuesday, Floyd's brother, Terence, took a knee at the spot where his brother was allegedly choked to death by Minneapolis Police Department (MPD) police officer, Derek Chauvin. Chauvin has been arrested and charged with third-degree murder while the three other cops that helped him subdue Floyd remain free but were fired from their jobs.
"Thanks for the love," said Terence Floyd to the crowd that gathered around him. "Thank you for the flowers. Thank you for the memorial."
He then pleaded with demonstrators around the United States to stop looting, burning and destroying.
"So if I'm not over here wildin' out, if I'm not over here blowing up stuff, if I'm not over here messing up my community then what are y'all doing," said Floyd. "What are y'all doing. Y'all doing nothing because that's not going to bring my brother back at all."
Terence Floyd said there's a better way to make change.
"Let's do this another way, let's do this another way," he said. "Let's stop thinking our voice don't matter and vote," echoing a call made earlier by Atlanta city mayor, Keisha Lance Bottoms, herself an African-American.
Terence Floyd asserts he wants justice for his slain brother.
"Peace on the left. Justice on the right," he said.
He also demanded the arrest of the other three former officers allegedly involved in his brother's death: Thomas Lane, Tou Thao and J. Alexander Kueng.
His brother's girlfriend, Courtney Ross, had also earlier asked people to respond to George Floyd's death in a way that honors him and without violence.
"You can't fight fire with fire," declared Ross. "Everything just burns, and I've seen it all day. People hate. They're hating. They're hating, they're mad. And he would not want that."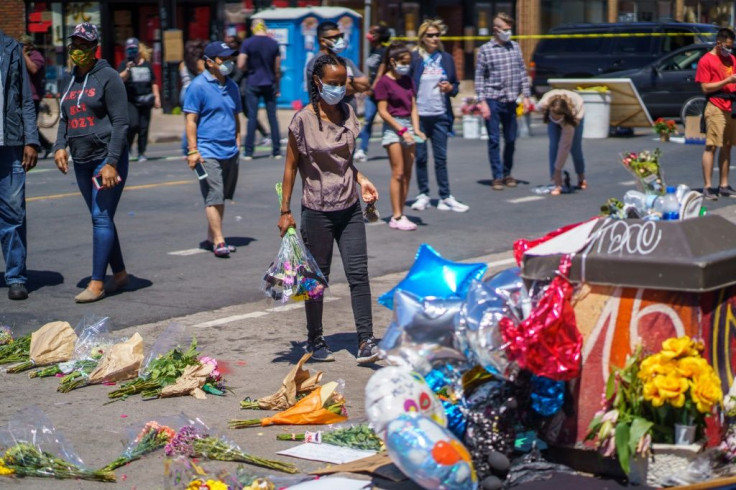 A memorial for George Floyd is scheduled for June 4 from 1:00 p.m. to 3:00 p.m. Floyd family lawyer Benjamin Crump said more details about the memorial will be released later. After the memorial in Minneapolis on June 4, there will be a memorial in North Carolina starting 1:00 p.m. Floyd was born in North Carolina.
Floyd will be buried June 9 in Houston, Texas, the city where he grew up. There will be a public viewing of Floyd's body in the city on June 8.
Houston mayor Sylvester Turner said Floyd should be buried in the city he grew up in.
"This is our house," said Turner. "This is the same city that George Floyd grew up. And his body will be returning to this city. To his city."
Floyd grew up in Houston's Third Ward and graduated from Yates High School. A star tight end football player, Floyd played in the 1992 state championship game in the Houston Astrodome. He moved to Minneapolis from Houston about four years ago looking for better job opportunities.
© Copyright IBTimes 2023. All rights reserved.