George W Bush Birthday: 10 Quotes From The 43rd US President
George W. Bush, the 43rd president of the United States, turns 76 on Wednesday.
Born on July 6, 1946, in New Haven, Connecticut, he is the eldest of six children of George Herbert Walker Bush and Barbara Pierce Bush.
Bush attended the Phillips Academy in Andover, Massachusetts, after his family moved to Houston in 1961. The former president graduated from Yale, received a business degree from Harvard, and later returned to Midland, where he got into the oil business. In Midland, he married Laura Welch, a teacher and librarian, with whom he had twin daughters, Jenna and Barbara.
Here are some quotes from Bush, courtesy Brainy Quotes.
1. "Use power to help people. For we are given power not to advance our own purposes nor to make a great show in the world, nor a name. There is but one just use of power and it is to serve people."
2. "Leadership to me means duty, honor, country. It means character, and it means listening from time to time."
3. "I think you can judge from somebody's actions a kind of a stability and sense of purpose perhaps created by strong religious roots. I mean, there's a certain patience, a certain discipline, I think, that religion helps you achieve."
4. "You can fool some of the people all the time, and those are the ones you want to concentrate on."
5. "Terrorist attacks can shake the foundations of our biggest buildings, but they cannot touch the foundation of America. These acts shatter steel, but they cannot dent the steel of American resolve."
6. "America is a Nation with a mission - and that mission comes from our most basic beliefs. We have no desire to dominate, no ambitions of empire. Our aim is a democratic peace - a peace founded upon the dignity and rights of every man and woman."
7. "States should have the right to enact laws... particularly to end the inhumane practice of ending a life that otherwise could live."
8. "I just want you to know that, when we talk about war, we're really talking about peace."
9. "See, in my line of work you got to keep repeating things over and over and over again for the truth to sink in, to kind of catapult the propaganda."
10. "Faith crosses every border and touches every heart in every nation."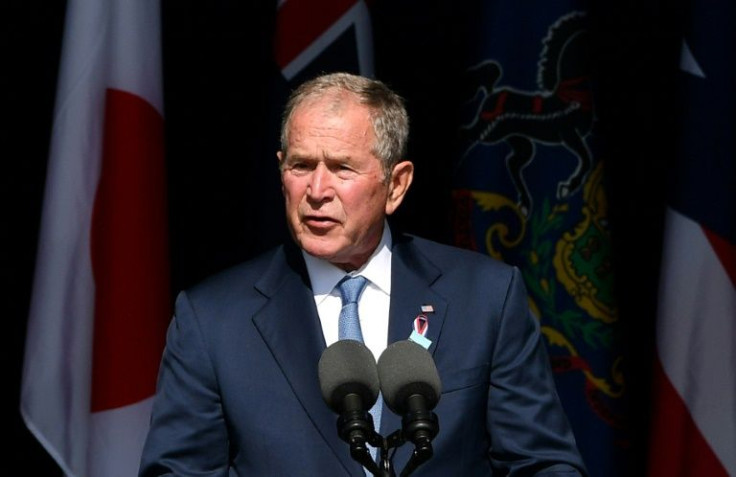 © Copyright IBTimes 2023. All rights reserved.