German ESM Ruling: World Stocks Rally, But Don't Sound The All-Clear Yet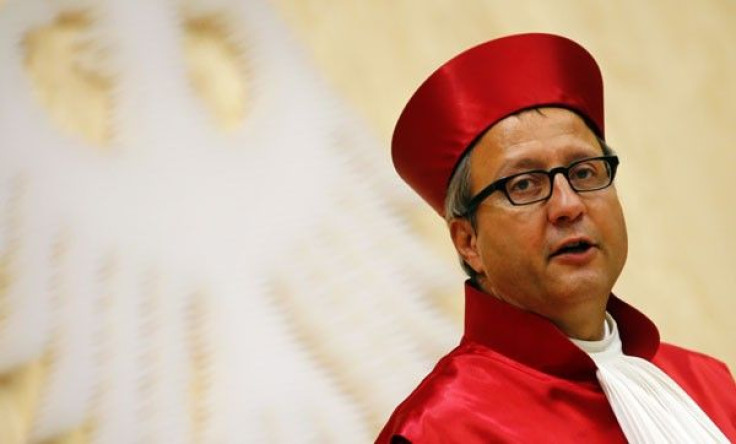 Market bulls charged on Wednesday -- running U.S. stock futures, European stocks, the euro, oil and gold higher -- in the wake of a German court ruling that backs the country's participation in the euro zone's new bailout fund created to prevent the weakest euro economies from going bust. However, some economists warn that it's too early to sound the all-clear on the fate of the single currency bloc.
Early Wednesday, the Federal Constitutional Court in Karlsruhe dismissed motions that sought to block the euro zone's permanent bailout fund, the European Stability Mechanism, or ESM. The mechanism is designed to handle bailouts and work in tandem with the European Central Bank to buy the bonds of countries, such as Italy and Spain, that are straining under high interest rates. Nonetheless, it placed a €190 billion ($240 billion) cap on German liabilities, unless Parliament agrees to provide additional guarantees.
The news was welcomed by European and German politicians.
Guido Westerwelle, Germany's foreign minister, praised the ruling as an "intelligent decision in the pro-European spirit of our constitution."
German Chancellor Angela Merkel told the Bundestag, the German parliament, during the budget debate on Wednesday that "This is a good day for Germany, this is a good day for Europe."
"Germany is decisively living up to its responsibilities as Europe's biggest economy and a reliable partner," Merkel said, adding that while Europe still has a tough road ahead in the crisis, the Constitutional Court's decision was a positive step. "We have not beaten the crisis. We will never overcome it with a drumroll. But I also say we have made initial progress toward solving the crisis," she said.
German magazine Der Spiegel referred to the German court ruling as "a sigh of relief" for Germany and Europe, and "a historically significant signal for the euro rescue."
The governors of the EMS will meet for the first time on Oct. 8, chairman of the group of euro zone finance ministers Jean-Claude Juncker said in a statement on Wednesday.
Borrowing costs in Spain and Italy eased to their lowest levels in six months. The decision helped push down Spanish 10-year bond yields to 5.6 percent, while the yield on the Italian 10-year bond slid to 5.04 percent.
European stocks touched a 14-month high after the decision. The euro appreciated 0.5 percent to $1.2920
Crude oil futures gained 53 cents to $97.7 a barrel, while gold futures rose to the highest level since February, trading at $1,746.55 an ounce earlier in the session.
The euro rose against the dollar. In early New York trading, the euro was at $1.2903, a near four-month high, compared with $1.2855 late Tuesday.
U.S. stocks opened higher Wednesday as investors also looked ahead to potential Federal Reserve stimulus and product launch by Apple Inc. (Nasdaq: AAPL).
While the German Court's decision to allow the ESM to be ratified, together with the ECB's earlier promise to meet ESM bond purchases with unlimited purchases of its own, suggests that a substantial firewall is now in place to prevent a Spanish or Italian default, it could be months before this support actually materializes and, even then, bond purchases will do no more than buy time, according to Jennifer McKeown, senior European economist at Capital Economics.
McKeown estimates that total EFSF/ESM and ECB bond-buying capacity might now amount to about €800 billion. This would be enough to meet Spain and Italy's joint financing needs from now until roughly the middle of 2014, significantly reducing the risk of an imminent default and euro-zone exit.
But McKeown warns that there are at least three reasons not to sound the all clear.
For a start, this assumes that no more money is spent on other euro zone countries. Now that a bigger firewall is in place to prevent contagion, the euro zone authorities might be more willing to let the likes of Greece and Portugal leave the euro zone. McKeown still believe that "a limited euro zone break-up will commence in the coming months."
Second, help for Italy and Spain could still take a long time to materialize. Both countries will need to request help from the ESM and accept the associated fiscal conditions and loss of sovereignty before either ESM or ECB funds will be forthcoming.
Third and perhaps most importantly, bond purchases of any size can address only one of the symptoms of the euro zone crisis and not the cause. Even assuming that Spain and Italy are bought some time with large and rapid bond purchases, their debt burdens will remain unsustainably high. And they must still undergo many years of internal devaluation, involving painful wage deflation, if they are to restore their competitiveness and achieve sustainable growth within the single currency area.
"So while the immediate risk of Spain or Italy leaving the euro zone has receded, there remains a significant chance that they opt to quit in the longer term," McKeown said.
Mariano Rajoy, the Spanish prime minister, said in a televised interview on Monday night that he is more determined than ever to avoid having to ask for a bailout -- despite the insistence last week by ECB president, Mario Draghi, that it would be a condition of the central bank helping to keep down a country's borrowing costs.
© Copyright IBTimes 2023. All rights reserved.
FOLLOW MORE IBT NEWS ON THE BELOW CHANNELS