'Ghostbusters' Stars Show Their Girl Power In New Photo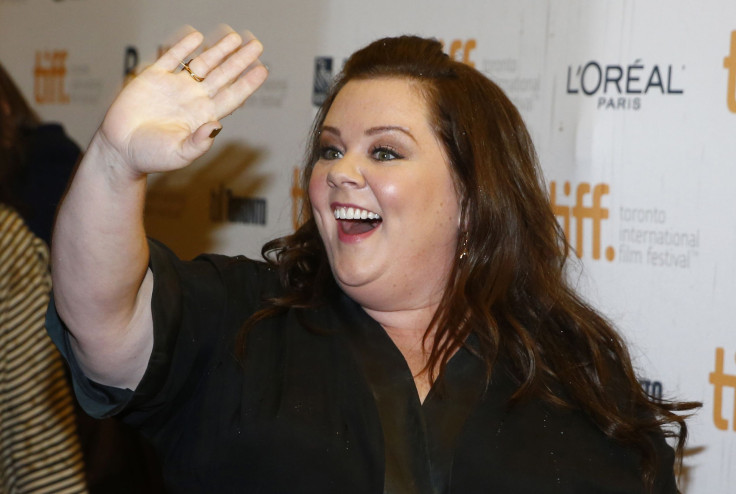 Mellisa McCarthy teased about "Ghostbusters'" "girl power" in her new tweet. The actress shared a group photo where she can be seen standing in the front with her co-stars including Kristen Wiig, Kate McKinnon and Leslie Jones. A group of girls can be seen standing behind them. They all are holding placards in their hands and are amongst the crewmembers of the film.
The caption of the photo reads, "3 cheers to Ellen from all the remarkable women of #Ghostbusters. When we stand together we are unstoppable!#GirlPower."
According to Cinema Blend, McCarthy mentioned Ellen DeGeneras' name in the atweet, as her clothing line is the inspiration for the photo. DeGeneras has collaborated with GapKids for her new clothing line and she wants to give voice to girls through her range of clothes, Mashable reported.
The tweet clearly celebrates the girl power of "Ghostbusters" which features women in the lead roles. The film is a reboot of 1984 American Supernatural comedy. There has been much debate about the all female lead of the "Ghostbuster's reboot." However, director Paul Fieg said in his previous interview that with four ladies in the lead he has already won "half the battle."
"Those four ladies I have starring in it are so funny. I'm going to battle with the best army I have. My whole crew from all my other movies have come aboard, and some great special effects people have come aboard – I have never really done this level of effects before," he said to Empire.
Feig has also written "Ghostbusters" alongside Katie Dippold, while the characters are created by Dan Aykroyd and Harold Ramis. The plot of the film has been kept under wraps. It is being shot in Boston and also stars Chris Hemsworth, Neil Casey and Andy García. The movie is set to hit theaters on July 15, 2016.
© Copyright IBTimes 2023. All rights reserved.