Giants Parade 2012: Rowdy Situation Between Parade Goers and Police [PHOTOS]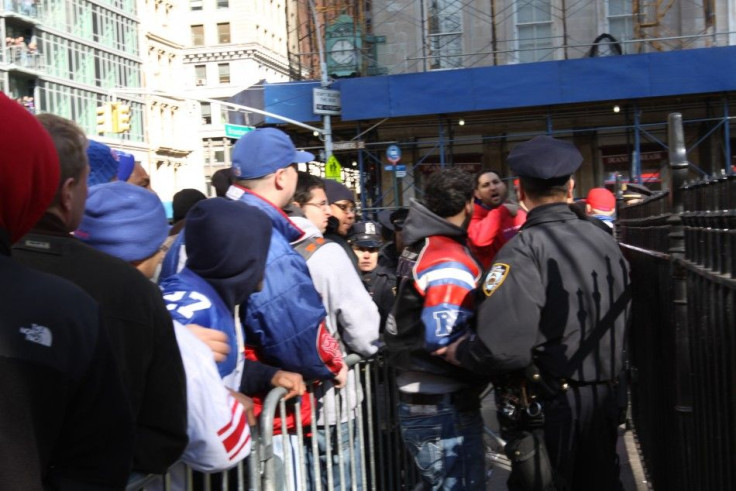 While the Super Bowl 2012 winning New York Giants celebrated their victory through the Canyon of Heroes, adoring fans came out in full force to support their team. However, at times, it appeared to be a tense situation for the parade-goers and police officers.
The parade through the Canyon of Heroes began to come to a close around 12:30 p.m. on Tuesday, just as the New York Giants made their way into City Hall Park, where Mayor Bloomberg gave each member of the New York Giants the key to the city. However, the crowd outside of the park became restless and wanted to leave.
Many individuals complained that they needed to use the bathroom, wanted to head to New Jersey to the MetLife Stadium ceremony, or that they had to go to work. However, police officers would not let anyone leave the barricades until the parade was completely over and the area was secure. This caused a bit of standoff between police and parade goers, as a flood of them began jumping over the barricades to leave.
Officers arrived and insisted that the pedestrians wait until they were told to leave. They told people to return to the other side of the barricade.
We are trying to leave, one woman told a nearby police officer as her young child jumped over the barricade.
Not until the parade is officially over, said the police officer and helped the young boy back over the barricade to his mother.
People began inundating the officers with questions, asking how long the NYPD would keep them in the makeshift pen. All the officers kept saying was that they had to wait until the parade was completely over and they had the go-ahead from their superiors.
Once they allowed the parade-goers to leave, more confusion broke out amongst the crowd. Some streets and nearby subway stations were blocked off. Police were directing individuals to head north or west. They were closing off parts of the East Side and didn't want pedestrians walking downtown right away.
However, the situation appeared to diffuse itself as people walked off. No one appeared to be arrested in the area surrounding City Hall as people went on with their daily lives.
© Copyright IBTimes 2023. All rights reserved.