Gillian Anderson Bisexual? Actress Reveals Past Relationships in Out Interview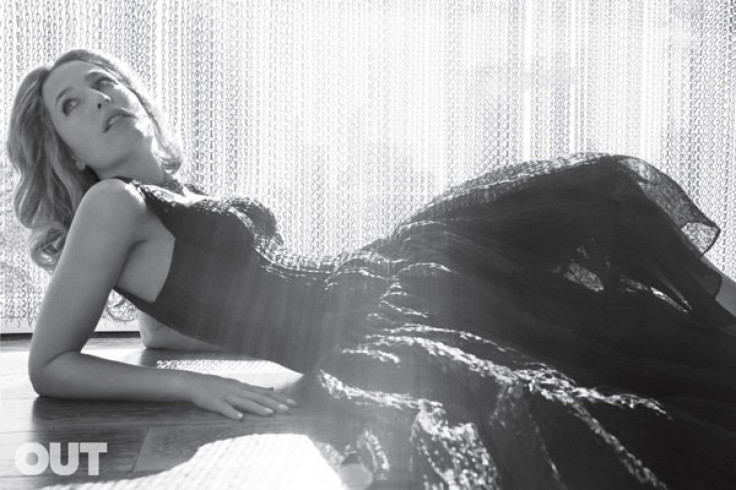 Gillian Anderson's personal life is making headlines this week, thanks to a new and revealing interview with Out Magazine. The actress, who played Scully on The X-Files for nine seasons and two films alongside David Duchovny, is bisexual.
Yeah, yeah, well it's . . . you know, I'm old enough that I can talk about that, Anderson, 43, told Out, referring to a long relationship she had with a girl during her high school days.
If I had thought that I was 100 percent gay, would it have been a different experience for me? Would it have been a bigger deal if shame had been attached to it and all those things that become huge life-altering issues for youngsters in that situation? It's possible that my attitude around it came, on some level, from knowing that I still liked boys, she added.
In high school, Anderson was apparently voted Most Bizarre and Most Likely To Be Arrested.
Based on how I chose to look, dress, behave, you know -- the relationships I was in at the time were freaking people out, she said, adding that she once dated a punk rock drug addict and someone who was way, way older than me.
The Chicago native, who was previously married to TV art director Cylde Klotz for three years and documentary filmmaker Julian Ozanne for two years, is currently going on six years strong with partner Mark Griffiths. Anderson has three children (one daughter with Klothz and two sons with Griffiths).
Since the last X-Files film, The X-Files: I Want to Believe, which came out in 2008, Anderson has been sticking to small film roles and mini-series, including the three-part adaptation of Great Expectations on the BBC. (The show will air in the US on PBS in April).
Playing the older Miss Havisham (which was played by Anne Bancroft in the 1998 film starring Ethan Hawke and Gwyneth Paltrow), Anderson apparently received a lot of attention, good and bad.
I'm aware that there's mixed conversation about my age and about the way I chose to play her . . . I have a weird relationship to all that stuff. I get a little grin about it. I feel a smile coming on, and I wonder how much of that is a pleasurable 'f**k you,' she told Out.
All noise aside, the BBC seemed to be pleased with Anderson's performance. So much that the network hired her again, this time playing the lead in The Fall, a five-part series about murder investigations in Belfast.
Great Expectations will air on PBS Apr. 1 and 8 at 9 p.m. EST.
For more of Gillian Anderson's interview with Out, visit the magazine's website.
© Copyright IBTimes 2023. All rights reserved.