Ginni Thomas, Wife Of SCOTUS Judge Clarence Thomas, Texted Mark Meadows About Overturning 2020 Election
29 newly-released text messages reveal that Virginia "Ginni" Thomas, wife of Supreme Court Justice Clarence Thomas, pressed former President Donald Trump's chief of staff Mark Meadows to overturn the 2020 US Presidential Election.
In the days that followed after news organizations predicted President Joe Biden had won the election, Thomas texted Meadows in messages obtained by CBS News and The Washington Post.
"H​​elp This Great President stand firm, Mark!!!... You are the leader, with him, who is standing for America's constitutional governance at the precipice. The majority knows Biden, and the Left is attempting the greatest Heist of our History," she texted on Nov. 10.
Meadows replied with "this is a fight of good versus evil . . . Evil always looks like the victor until the King of Kings triumphs. Do not grow weary in well doing. The fight continues. I have staked my career on it. Well at least my time in DC on it."
"I will try to keep holding on. America is worth it!" She responded.
There were eight texts from Meadows and 21 from Thomas. It is unclear if Justice Thomas knew about these messages, or was involved in any way, as neither his wife nor Meadows ever mentions him by name. The messages obtained are among thousands Meadows provided to the Jan. 6 committee.
In the texts, Ginni Thomas also spreads conspiracy theories and lies about the election which Meadows agrees with, repeatedly stating his desire to see the success of Trump. On Nov. 24, further messages indicated that Meadows and Thomas grew increasingly frustrated.
"I can't see Americans swallowing the obvious fraud. Just going with one more thing with no frickin consequences... the whole coup and now this... we just cave to people wanting Biden to be anointed? Many of us can't continue the GOP charade," Thomas wrote to Meadows.
He responded with "You're preaching to the choir. Very demoralizing."
The committee obtained 2,320 of Meadows' messages before he stopped cooperating, so it is unclear whether Thomas and Meadows had any further communications after that point. However, George Terwilliger III, Meadow's attorney, confirmed the existence of the texts to both The Post and CBS News.
He said that there would be "nothing about the text messages" that "presents any legal issues." Terwilliger refused to comment on the individual texts, and both Ginni and Clarence Thomas have refused to comment. The Jan. 6 committee also refused to comment.
"We are living through what feels like the end of America . . . Most of us are disgusted with the VP [former Vice President Mike Pence] and are in listening mode to see where to fight with our teams. Those who attacked the Capitol are not representative of our great teams of patriots for DJT!!" Thomas wrote on Jan. 10, after the Jan. 6 insurrection.
She previously admitted that she attended the "Stop the Steal" rally that occurred before the deadly riot at the Capitol.
"Amazing times," she added, then declared what they were seeing was "the end of Liberty."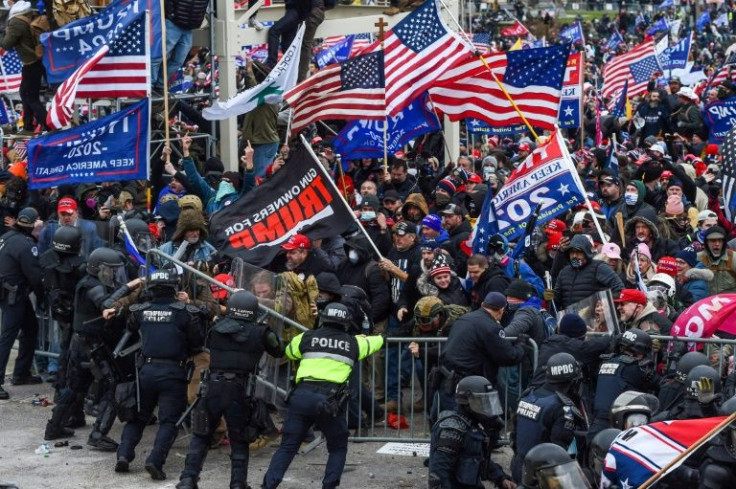 © Copyright IBTimes 2023. All rights reserved.