Girl Scout Cookies Are Really Unhealthy And America Doesn't Care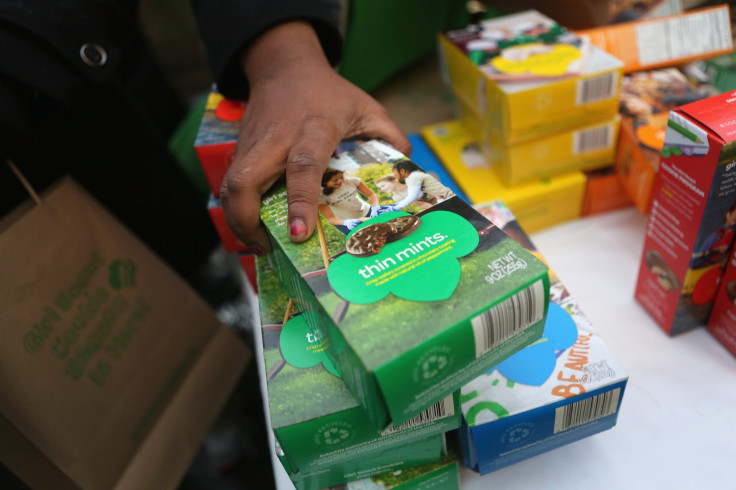 For Sissy Landin, Samoas are a rare breed of cookie, with just the right crunch of caramel and chocolate and coconut. "A couple of companies have tried to duplicate it, and it's just not exactly the same," Landin, who lives in Eagan, Minnesota, said. The fact that they're available just once a year and sold by Girl Scouts makes them all the more special.
"It's just the idea of supporting Girl Scouts, and kids in general," said Landin, who for the last 15 years has purchased about six boxes of Girl Scout cookies annually, a combination of Samoas, Trefoils and Do-si-dos. "It helps build their esteem. It helps them to become more assertive," she said, adding that she knew buying season — "that little bit of thrill" — was coming up.
Indeed, Girl Scout cookie season is back and in some parts of the U.S., sales have already begun. But in recent years, these legendary, tantalizing desserts have been pitted against a backdrop of high rates of diseases, like diabetes and obesity, that are linked to sugar consumption. Growing ranks of doctors and parents criticize the cookies as being at odds with not only the mission of the Girl Scouts of the USA but also with broader public health efforts, yet Girl Scout cookies appear poised to remain as popular as ever, a seemingly impervious exception to a broader consumer shift toward food that is marketed or perceived as healthier.
"Why are we having them sell something that's so unhealthy?" said Victoria Maizes, a doctor and professor of medicine and public health at the University of Arizona Center, where she also serves as executive director of the Center for Integrative Medicine. "There is an inherent disconnect," she said between what the Girl Scouts are selling and the organization's mission of "building girls of courage, confidence, and character who make the world a better place."
Type 2 Diabetes Prevalence in the United States | HealthGrove
In 1917, the Mistletoe Troop of Muskogee, Oklahoma, organized the first cookie sale in a high school cafeteria, according to official literature. Five years later, an issue of the American Girl published a simple sugar cookie recipe for girls to follow, along with recommended prices — 25 cents to 35 cents a dozen — for selling them door to door. By 1978, seven standardized varieties of cookies were produced by four bakers; today, two bakers are licensed to manufacture a dozen types of cookies, which sell for $4 to $5 a box.
Girl Scout cookies also come with a mantra. "Every time you buy a box, you help girls learn five essential skills — goal setting, decision making, money management, people skills, and business ethics — all while helping them better themselves and their communities," the Girl Scouts' website says.
The Girl Scouts of the USA sells nearly $800 million worth of cookies every year, and critics say the organization can no longer ignore staggering rates of so-called lifestyle diseases in the United States, where 9.3 percent of the population has been diagnosed with diabetes and another 8.1 million are estimated to have gone undiagnosed, more than one-third of adults qualify as obese, and heart disease causes a quarter of deaths in the country. Researchers are finding that one of the chief culprits of these conditions is added sugar, and increasingly parents and doctors alike are calling for the Girl Scouts of the USA to address this fact.
"We shouldn't be getting these young girls to hawk these poisons,­" Vani Hari, an author and the founder of the popular blog FoodBabe.com who is an outspoken critic of the food industry, said in an interview this week. Hari published a post Jan. 19 that "dissected­" Girl Scout cookies, highlighting ingredients like high fructose corn syrup and partially hydrogenated oils. She said the piece had elicited a swell of positive responses from mothers thanking her for speaking up. Now, she said, "It's important for the Girl Scouts organization to take a step back, look at these ingredients and say, 'How can we continue to do this program in a way that's morally sound?' "
Girl Scout Samoas Cookie - Nutrition Overview | HealthGrove
Pleas to stop selling cookies for the sake of public health are hardly new. In 2006, New York Times columnist Nicholas Kristof wrote an opinion article titled "Killer Girl Scouts" that questioned whether "trans fats peddled by cute little girls" were a threat "much more likely to kill us" than Al Qaeda or Saddam Hussein. In April 2014, an NPR piece rounded up a slew of concerns from doctors and parents and ended with the question, "Should the Girl Scouts find something more healthful to sell for their fundraising?"
What's new is that Americans these days are generally trying to eat healthier, or at least buying foods they perceive to be more nutritious. They want less sugar and fat, fewer calories, fewer processed and artificial ingredients, more whole grains and certainly no genetically modified organisms, or GMOs, industry trends show.
And food companies are doing their best to keep up, making their crackers and cookies slimmer or promoting nutritional contents like fiber and whole grains and slapping food labels with the word "natural."
In North America from 2012 to 2014, sales of foods deemed "healthy" grew 7 percent, while indulgent products like soda and cookies fell by 2 percent, according to Nielsen, the consumer research firm. Mintel, a global data and market research firm, warned in its report on global food and drink trends in 2016 that products that failed to cater to consumers' desires "will face scrutiny — or worse."
Except, perhaps, Girl Scout cookies. In recent years, the organization has added lower fat, whole grain and gluten-free options, but none of them make its best-seller list of Thin Mints, Samoas, Tagalongs, Do-si-dos and Trefoils.
"Having some Girl Scout cookies once a year isn't the end of the world, but when you take a look at the big picture it all adds up," said Rachel Avalon, a certified health coach in Los Angeles.
Girl Scout Thin Mints Cookie - Nutrition Overview | HealthGrove
In April 2015, Maizes, the University of Arizona professor, wrote an opinion piece for CNN that pointed out the many unhealthy ingredients in Girl Scouts cookies. Not only were they contributing to obesity but also to cancer and heart disease, she pointed out. The response was vitriolic, she recalled.
"Pizza, soda, Twinkies, French fries, milk shakes ... but Victoria Maizes goes after Girl scout cookies?" one commenter posted. "What a buzz kill. Leave those hard working Girl Scouts alone," said another.
"There were so many angry comments," Maizes said in an interview. She urged the Girl Scouts to sell a different product, like wrapping paper or gift cards.
Thin Mints, the popular chocolaty-minty biscuit, contain high fructose corn syrup and vegetable oil shortening, while the peanut butter patties known as Tagalongs are made with partially hydrogenated oils — an ingredient that has trans fats, which the Food and Drug Administration has moved to remove from all foods, citing its link to heart disease.
In response to a request for comment for this article, the Girl Scouts of the USA directed International Business Times to a question on its FAQ page, "Don't Girl Scout Cookies contribute to childhood obesity?" which said in part that "the Girl Scout promotes a healthy lifestyle for girls, which includes a well-balanced diet and plenty of exercise." Girl Scout cookies, it added, "should be enjoyed in moderation."
The Girl Scouts' answer to another frequently asked question, this one regarding trans fats, seems designed to downplay or even obscure the fact that some of the cookies do have trans fats. "All varieties contain less than 0.5 grams trans fat per serving, which meets the FDA guidelines for the 'zero trans fat' designation," it says. The catch there is "per serving," because, if the Girl Scout cookie gluttony celebrated by Twitter users is any indication, who eats just one serving — calibrated as two cookies — of Samoas?
Customers believe that they're contributing to what Dorie Clark, a marketing strategy consultant and author of self-marketing book "Stand Out," called "an early dose of entrepreneurship education for girls." People say, "Well, I'll make an exception for this," said Clark.
Another key ingredient in the cookies is their emotional value. "Girl Scout cookies tap into a very powerful vein of nostalgia in American culture," Clark said. "They've become a national comfort food."
As a well-known, powerful organization, the Girl Scouts could choose to capitalize on its clout and tackle issues like childhood obesity, rather than contribute to them, said Maggie Neola, a dietitian with the Physicians Committee for Responsible Medicine, a nonprofit organization based in Washington, D.C.
"It'd be fantastic if they were able to take a stance and help fight it in some way, to try to encourage people to have healthier eating habits," she said.
Girl Scout Tagalongs Cookie - Nutrition Overview | HealthGrove
Others suggest that criticism of Girl Scout cookies is unwarranted, because their sales and nutritional content, or lack thereof, pale in comparison to everything else at Americans' fingertips that are just as harmful to their health, like Big Macs or Halloween candy.
"They're a treat, not a mainstay of the diet," Mary Hartley, a consulting nutritionist in Providence, Rhode Island, said.
Landin said that for her, moderation was not a problem when it came to Girl Scout cookies, even in a household that has three kids. "I ration those cookies out over several weeks," she said. "It's a real treat."
© Copyright IBTimes 2023. All rights reserved.
FOLLOW MORE IBT NEWS ON THE BELOW CHANNELS