'Girls' Creator Lena Dunhan And Gawker Go To War Over Her Leaked Book Proposal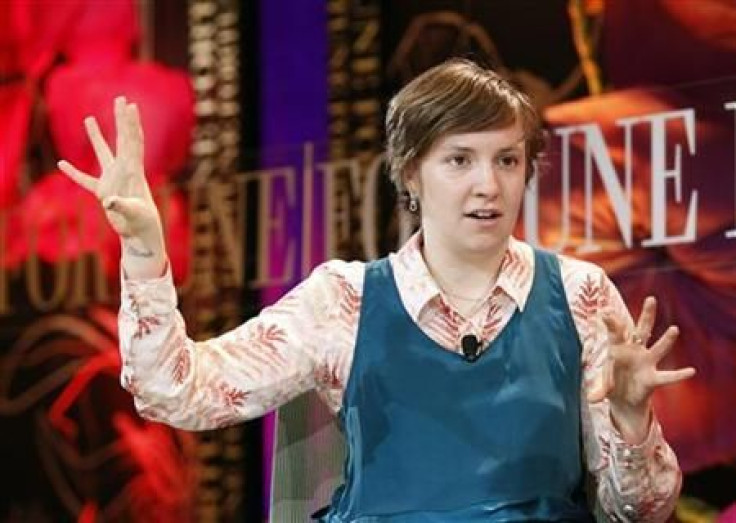 America may love "Girls," but that doesn't mean Gawker does.
More specifically, Gawker scribe John Cook has made it his calling, of sorts, to declare war on Lena Dunham, the show's other stars (who, like Dunham, come from privileged families), and what Cook perceives to be the narcissistic, petulant message that informs each episode of "Girls."
When news first spread that Dunham had inked a $3.5 million book deal with Random House to publish her "frank and funny advice on everything from sex to eating to traveling to work," Cook was irked. He kept his response short and snippy, writing "Lena Dunham became eligible to vote in 2004, so you should listen to her."
"TWITTER TWITTER FACEBOOK INTERNET IPHONE TEXTING," he added, lashing Dunham and her generation for their tech-obsessiveness.
That was Oct. 8. Last Friday, on Dec. 7, Gawker published part of Dunham's book manuscript, titled "Not That Kind of Girl."
Cook, prefacing Gawker's publication of the proposal, wrote, "It's basically literary lifecasting: Fully 13% of the proposal's pages are devoted to reproducing a diary Dunham kept of what she ate in 2010."
Soon after Gawker published the manuscript excerpts, it received a stern letter from Dunham's attorney, who demanded the site remove the proposal. Gawker complied, but it kept 12 scattered quotes from the work, adding its own annotations, penned, of course, by "Girls" nemesis John Cook.
To defend the excerpts, Gawker invoked the fair use doctrine, which holds that a publication can publish copyrighted material so long as it adds commentary in the process, which Cook certainly does.
From Dunham's manuscript: "I've been in therapy since I was seven."
From Cook's Commentary: "The quoted sentence is revelatory of Dunham's character in that it provides evidence that she has been examining her own thoughts and desires analytically from an absurdly young age. It is also indicative of a nauseating and cloying precociousness that permeates the entire proposal."
Cook continues in this polemical fashion on the site by arguing that Dunham is "incapable of conceiving a rationale for writing that doesn't serve the goal of drawing attention to herself," was "raised in exquisite privilege," and displays "oblivious cluelessness about time and its passage."
Season two of "Girls" debuts on Jan. 13. Expect Cook to be ready.
© Copyright IBTimes 2022. All rights reserved.
FOLLOW MORE IBT NEWS ON THE BELOW CHANNELS