Global Platinum Inventory Could Last Nine Months, Which Is Tough Luck For Striking Workers Of South Africa's AMCU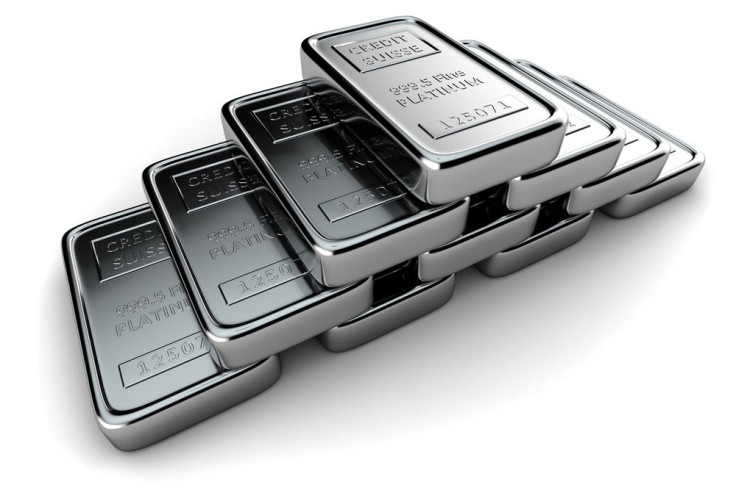 Existing worldwide platinum stockpiles could satisfy global demand for 42 weeks straight, or more than nine months, before running out, estimated Citigroup Inc. (NYSE:C) analysts in a note on Tuesday.

That bodes badly for South Africa's platinum workers, who began a massive ongoing strike last Thursday, led by the Association of Mineworkers and Construction Union (AMCU). With plenty of supply above ground, consumers and investors may worry little about choked-off production. That in turn provides little support for platinum prices, which fell to $1,407 per ounce on Tuesday.

Existing inventory at 5.97 million ounces could "meet ETF [exchange-traded fund] and industrial demand, and provide cover for possible strike disruption," wrote the Citi analysts.

They added that platinum's disappointing 2013 performance, where the precious metal fell 8 percent, could be due to the abundance of already mined and recycled metal above ground. Spot platinum touched a high of $1712 per ounce in early 2013, before falling to present levels. A brief 2013 strike at the world's largest platinum miner, Anglo American Platinum (Amplats) (SJ:AMS), failed to lift prices, despite 44,000 ounces in lost output.

Abundant platinum supplies are nothing new, according to Citi. They estimated that total platinum stocks stood at 9.75 million ounces at the end of 2012, up 95 percent from the preceding six years.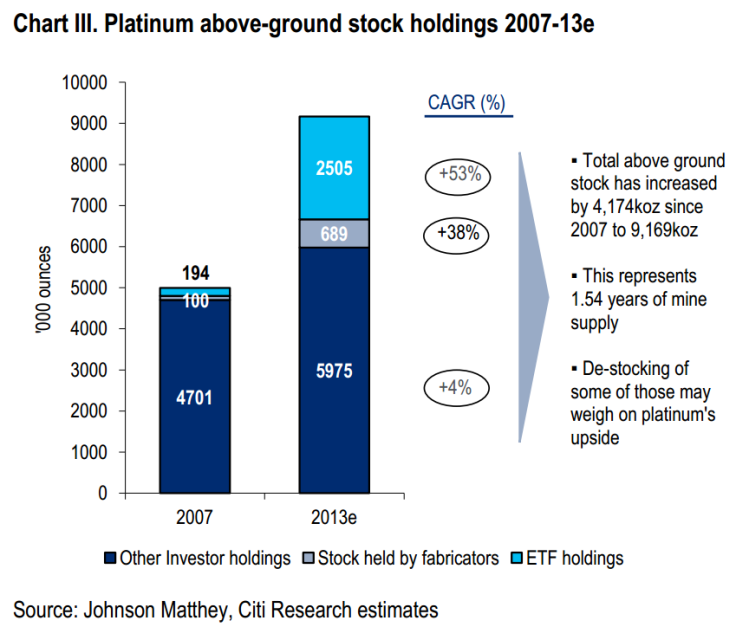 South Africa accounts for 90 percent of global platinum mine output. Zimbabwe and Russia account for small proportions of global platinum supplies.

Citi forecasts average platinum prices of $1,575 per ounce by the end of 2014, with platinum underperforming its sister metal palladium. Platinum industry tracker Johnson Matthey (LON:JMAT) projects platinum averaging $1,465 per ounce in early and mid-2014. Thomson Reuters' GFMS service sees a full-year average of $1,550 per ounce, with highs touched in the fourth quarter.

The world's three biggest platinum producers, whose mines are targeted by the strikes, have said they collectively lost 879,4000 ounces of production in 2012 and 2013 due to strikes. Wage negotiations resumed Monday, mediated by the South African government.

Analysts have already noted that mining companies alone are sitting on at least six weeks of platinum stockpiles. Existing inventory mined in past years or available from other sources, like recycled platinum, isn't factored into that.
(Note: Platinum ingot photo by Shutterstock.com.)
© Copyright IBTimes 2023. All rights reserved.
FOLLOW MORE IBT NEWS ON THE BELOW CHANNELS