'Glory' Featuring Blue Ivy Carter to 'Blueprint' - Jay-Z's Lyrics on Child-Rearing [VIDEO]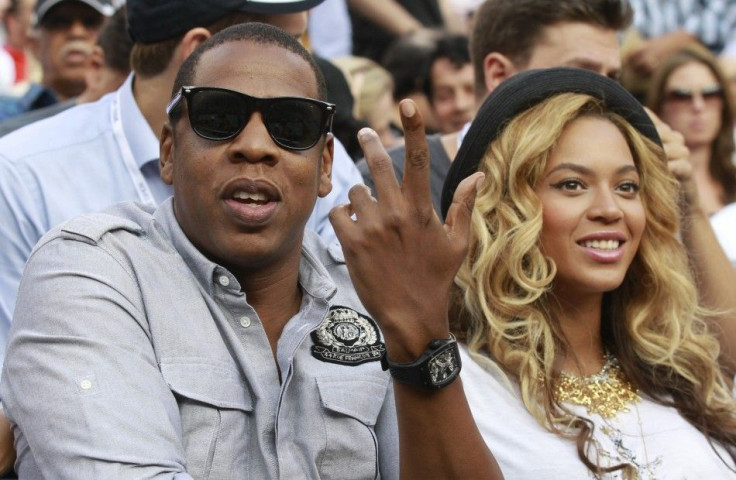 Jay-Z may have written the lyrics to the album Blueprint in two days, as he's claimed in the past, but Blue Ivy Carter, his new daughter, took nine months to bring into the world.
Arriving via scheduled c-section Saturday, Beyonce and Jigga gave birth to daughter Blue Ivy Carter after months of speculation.
Though Blue Ivy Carter is the 42-year-old rap icon's first, there's a whole body of work that reveals Hov's views toward children. And a new song he dropped Monday features his thoughts on young BIC.
He went back on the promise in the song Hello Brooklyn 2.0 off his 2007 album American Gangster that he would name a daughter Brooklyn Carter, but Jay still has a legacy of lyrics on the topic of babies, kids and growing up.
On Monday, Jay dropped Glory, a new song produced by Pharell which deals with the topic of his newborn daughter Blue Ivy Carter:
The most amazing feeling I feel,
Words can't describe the feeling,
For real, baby I'll paint the sky blue,
My most greatest creation was you...
You're my child with the child from Destiny's Child,
That's a hell of a recipe.
As Jay-Z said in the song New Day on Watch the Throne, his smash 2011 hit album recorded in conjunction with Kanye West, he feels that his child (he anticipated a son in the tune) will be under the microscope as soon as he enters the world. He also went on to imagine a day when he and Beyonce are no longer together:
Sorry junior, I already ruined ya,
Cause you ain't even alive, paparazzi pursuin' ya.
Sins of a father make ya life ten times harder,
I just wanna take ya to a barber.
Bondin' on charters, all the shit that I never did,
Teach ya good values, so you cherish it.
Took me 26 years to find my path,
My only job is cuttin' the time in half.
So at 13 we'll have our first drink together,
Black bar mitzvahs, mazel tov, mogul talk.
Look a man dead in his eyes,
So he know you talk truth when you speak it, give your word, keep it.
And if the day comes I only see him on the weekend,
I just pray we was in love on the night that we conceived him.
Promise to never leave him even if his mama tweakin,'
Cause my dad left me and I promise never repeat him.
Never repeat him, never repeat him.
But Watch the Throne is not Jay-Z's first meditation on child-rearing. On 2003's The Black Album, Jay spoke about his mother's experience giving birth to him and rearing him in his early years. The lyrics of the song December 4th provide a glimpse into his views on the topic:
I was conceived by Gloria Carter and Adnes Reeves,
Who made love under the sycamore tree.
Which makes me,
A more sicker M.C. and my momma would claim,
At 10 pounds when I was born I didn't give her no pain.
Although through the years I gave her her fair share,
I gave her her first real scare,
I made it from birth and I got here.
In the intro to that classic, Jay includes a clip of his mother speaking about his own first moments:
Shawn Carter was born December 4th.
Weighing in at 10 pounds 8 ounces,
He was the last of my 4 children.
The only one who didn't give me any pain when i gave birth to him,
And that's how i knew that he was a special child.
The song Meet the Parents off Hov's Blueprint 2 album goes deeper into the Brooklyn-born rapper's psyche, exposing a wide range of emotions about raising children, rooted in his own childhood:
Only men can raise men.
He was his own man, not even him can save him.
He put his faith in a thirty-eight in his waist,
But when you live by the gun, you die by the same fate.
End up dead before thirty-eight and umm,
That's the life of us raised by winter.
It's a cold world, old girl turned to coke, tried to smoke her pain away.
Isis, life just ended on that rainy day.
When she got the news her boy body could be viewed,
Down at the city morgue, opened the drawer, saw him nude.
Her addiction grew, prescription drugs, shift and brew...
...See Mike at thirty-two was still on the scene,
Had a son fifteen that he never saw twice.
Sure he saw him as an infant, but he dissed on him like,
If that was my son, he would look much different.
See I'm light-skinned and that baby there's dark,
So it's, momma's baby; poppa's maybe.
The Blueprint (Momma Loves Me) off Hova's The Blueprint album provides even more insight into Jigga-man's thoughts on raising children, rooted in his own upbringing:
Momma loved me, pop left me,
Mickey fed me, and he dressed me,
Eric fought me, made me tougher,
Love you for that my n**** no matter what, brah.
Marcy raised me; and whether right or wrong,
Streets gave me all I write in the songs.
Hootie babysitted, changed my diapers,
Gil introduced me to the game that changed my life up.
East Trenton grew me, had me skipping school,
Valencia's boyfriend Vovo had me makin' moves,
Momma raised me, pop I miss you...
Momma loved me, pop left me,
Grandma dressed me, plus she fed me.
But in the end, Jay-Z's real inspiration is his mother, and he says on the song I Made It off his 2006 album Kingdom Come that he's been raised to follow in her footsteps:
I aggravated you for Atari and Coleco Vision,
Pinstripe Lee's when the first day day of school came.
I was OK with not having everything as long as Saturdays,
You had the Commodores playing.
The expression on your face was priceless,
It's still with me 'til this day.
Baby girl I won't erase it,
I go to my grave with the memory of the sacrifice you made...
...Wow, I know pop's looking down,
I know Colleek somewhere up in the clouds.
Like go get 'em Grandma, make me proud.
Didn't have a man in the house so you made one,
So I act like ya husband and I'm only ya son.
I told you one day I'll get you a home,
But I didn't know it would possibly be in Rome.
She told me don't wait on nobody,
Get your own, so with me, myself & my microphone I made it.
Momma I made it.
Can you think of any other Hov lyrics that should be listed here? Let us know in the comments.
Glory:
New Day:
December 4th:
© Copyright IBTimes 2023. All rights reserved.