'Good Trouble' Spoilers: How 'The Fosters' Ended, Meet Spinoff Cast
Back in June, the Freeform drama "The Fosters" wrapped up its 5-season run, and now some of the characters are back in the all-new spinoff series, "Good Trouble."
Premiering on Tuesday, the show follows Callie (Maia Mitchell) and Mariana (Cierra Ramirez) as they start their new lives in Los Angeles. Don't quite remember how they ended up there? Here's a short recap of how "The Fosters" ended.
At the end of the Season 5 spring finale, fans saw a graduation montage, showing all of the Adams Foster children graduating from high school. And, because of how much time passed, some graduated from college, as well.
During the three-night series finale event in June, after Brandon (David Lambert) got married, the whole family went back to their home to pack up because Lena (Sherri Saum) and Stef (Teri Polo) decided to sell the place since Lena wanted to run for State Assembly in another district. Plus, they figured it wouldn't affect the kids too much because Brandon would be with his new wife, Jude (Hayden Byerly) was off at college in Los Angeles, Jesus (Noah Centineo) was working his own construction gig and Mariana and Callie starting fresh in Los Angeles — Callie landed a clerkship, while Mariana accepted a new tech job.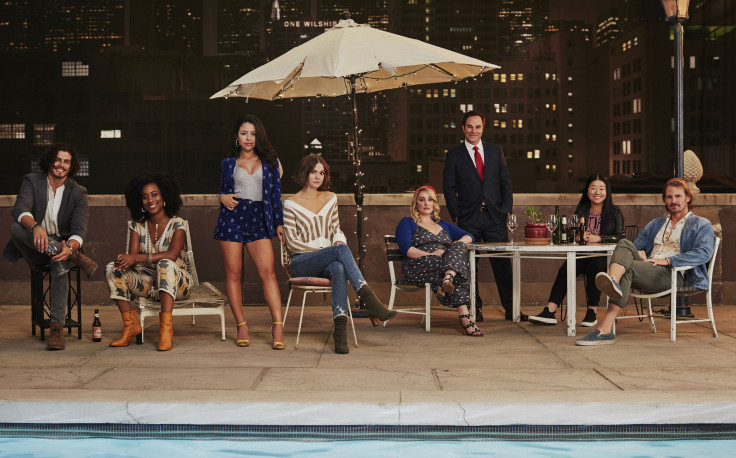 Now that you're all caught up before watching episode 1 of the spinoff series, here's the official "Good Trouble" synopsis:
We pick up where 'The Fosters' ended, 5 years in the future, with sisters Callie & Mariana graduating college and moving to downtown Los Angeles. Living with a group of friends in a community style living space, Callie and Mariana navigate the beginning of their careers—Callie clerking for a conservative judge and Mariana in the male-dominated tech space. The sisters and best friends will navigate love, sex, and the complicated relationships that come with living in a new city in your 20s.
Aside from Mitchell and Ramirez, the show's cast also includes "Riverdale" actor Tommy Martinez (Gael), "Claws" star Sherry Cola (Alice), "Revenge" alum Josh Pence (Dennis), "Under the Dome" actress Zuri Adele (Malika), "Happy Endings" star Emma Hunton (Davia) and "A Series of Unfortunate Events" actor Roger Bart (Judge Wilson).
Catch the series premiere of "Good Trouble" when it airs on Freeform on Tuesday at 8 p.m. EST.
© Copyright IBTimes 2023. All rights reserved.