'Good Witch' Season 4 Spoilers: Exclusive Episode 8 Clip, Synopsis
The synopsis for Sunday's new "Good Witch" episode on Hallmark Channel, titled "All Dressed Up," reveals that Abigail helps along a building permit process with the mayor, Martha, in hopes that the new guy in her life, Phil, will move his business to Middleton. International Business Times has the exclusive clip (watch above) of exactly that.
In the scene, Abigail (Sarah Power) walks into the mayor's office to find Martha (Catherine Disher) working through a large pile of documents she needs to approve or reject and then file. Abigail, who's clearly there for a reason, doesn't seem too happy about how much work Martha has to do, noting that "it looks like it could take a long time to get through every single one of those."
Always one to have a little magic up her sleeve, Abigail suggests Martha should open up her windows to get some fresh air while she works. While Martha, of course, just thinks she's trying to be helpful, it's clear from the glint in Abigail's eye that she has an ulterior motive with her suggestion.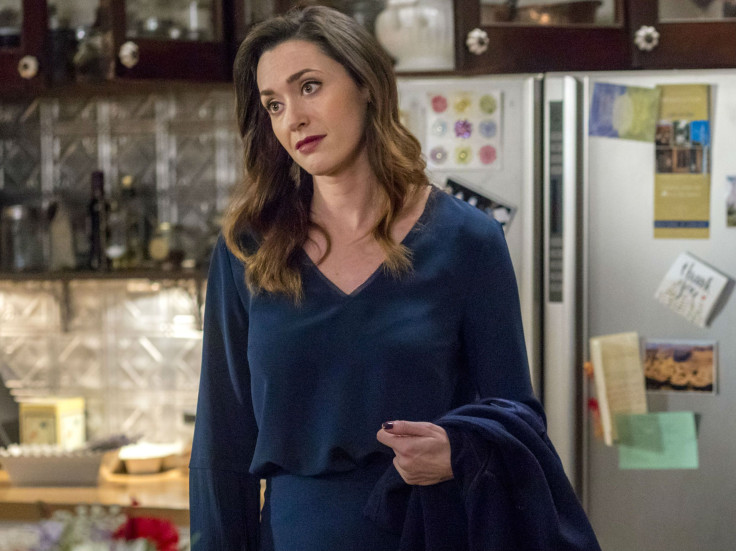 "You know, that's a very good idea," Martha says. "I sometimes forget that these things actually open to the outside world."
The moment she opens a window, though, a large gust of wind bursts through and scatters the piles of papers from her desk all around the room. Abigail's quick to drop to the floor to start gathering them up, offering, "I can put these in order for you."
Though the mayor says that it's fine and she'll just put them in whatever order, it appears that the documents are already in exactly the new order she wanted them to be all along.
"Wait a minute, who's trying to rezone the old mill?" Martha asks while looking at the top document. "Well, if somebody wants to do something with that dilapidated old thing, the sooner the better."
Martha signs off on the paper before Abigail once again offers up her help, "Do you want me to take that out to Jared so he can send it on to the right department?"
Between this scene and the clues from the synopsis, it appears that Abigail uses her magical ways to fast-track a rezoning document to help possibly fast-track both Phil's (Sebastian Pigott) business and her growing relationship with him.
Also in the "Good Witch" episode, "Cassie (Catherine Bell) tries to track down a long-lost wedding dress that once belonged to Elizabeth Merriwick, while Sam (James Denton) works on their (growing) guest list," the synopsis shares. She happens to find new ideas for the wedding as she journeys to find the dress.
As for Grace (Bailee Madison), she "plans to make a long-distance relationship work after Noah (James Rittinger) is accepted to college in New York, but when she starts sacrificing major events in her life – including prom – she comes to realize their relationship may change after graduation," according to the synopsis.
Find out what happens when "Good Witch" airs on Hallmark Channel on Sundays at 9 p.m. EDT.
© Copyright IBTimes 2023. All rights reserved.