Google Is Bringing Android's 'Google Now' To Chromebooks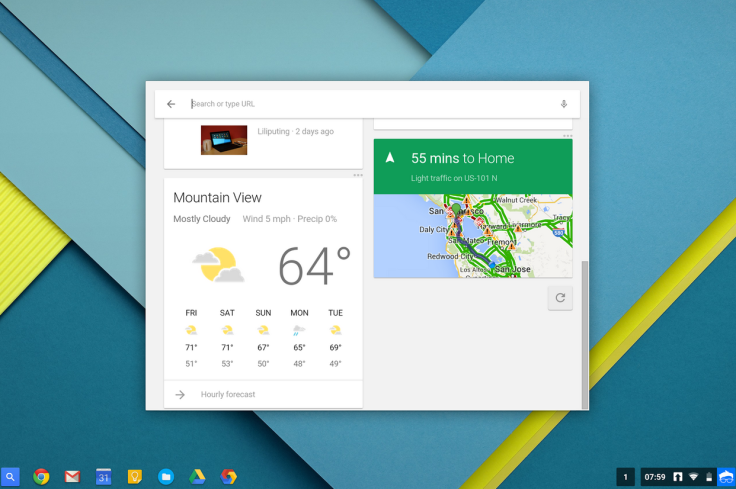 In its continuing efforts to make Chromebooks look and feel more like Android, Google Inc. said it was bringing Google Now notification cards to its Chrome operating system on Thursday.
With the update, the new Google Now Launcher 2.0 opens into a larger window in the center of your display in place of the pop-up menu that used to contain a user's apps. The search giant's logo now appears on top of a search box, as well as the four most recently used Chrome apps and a button to reveal all installed apps.
While the new launcher adds an extra step for users looking to open an app not pinned to their bottom "shelf," it also offers cards like the weather, traffic, headlines and sports scores. Google Now's cards are the defining feature of the virtual assistant, along with voice control, and also appear on Android Wear smartwatches.
Google is also making minor efforts to transition Chrome apps over to Material Design, the new "design language" it's using to standardize the appearance of its services and software. The latest is the Chrome OS' File Manager.
The new features are only available in "beta," or the experimental in-progress version of Chrome. Ernest Cabrera, Google's community manager for Chrome, who announced the features in a forum post, said they would roll out over the next week to Chrome beta users.
"The new launcher is the best way to start new activities on Chrome OS, like performing a Google search or launching apps. It's fast, simple, and helps you get things done," Cabrera said. "We've enhanced search to help you find what you are looking for faster, put the apps you most often use right at your fingertips, and brought the power of Google Now to your Chromebook."
Chrome OS users can join the beta program to receive new features like Google Now before they are ready for "primetime" by clicking on Settings > About Chrome OS > More Info > Change Channel.
While beta users receive new features about a month early in Chrome, the tradeoff is that they usually end up encountering more bugs and errors. Also, users that switch back from beta to a "stable" update schedule will have their device wiped clean in the process.
© Copyright IBTimes 2023. All rights reserved.