Google Earth Revamped With New Voyager Feature For Better Exploration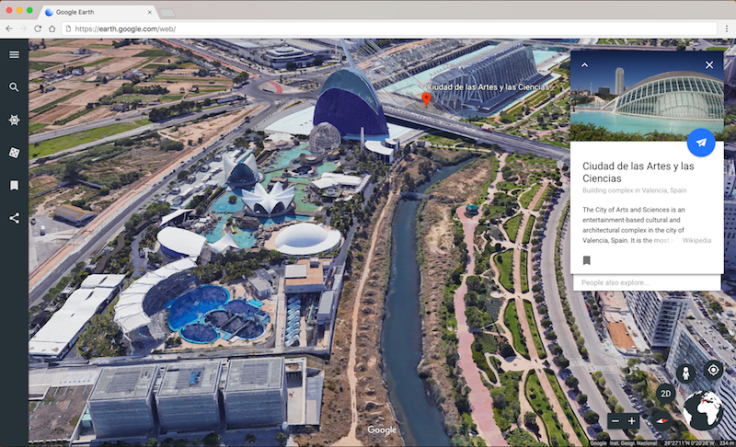 Google has revamped Google Earth by adding a new UI, as well as tons of new features. One of the main new features on Google Earth is called Voyager, which is capable of providing users with an interactive guided tour.
Voyager on Google Earth is able to provide fun facts, stories and other information on various locations around the globe. Google partnered with the likes of BBC Earth and the Gombe National Park to deliver 50 stories for Voyager. Google says that it will add more stories to Voyager every week.
Google has already set up a Voyager story called "This is Home" that takes users on a journey to see traditional homes from cultures around the world. Google will be adding more homes to this Voyager story in the coming months.
"With the new Earth, we want to open up different lenses for you to see the world and learn a bit about how it all fits together; to open your mind with new stories while giving you a new perspective on the locations and experiences you cherish," Google Earth product manager Gopal Shah said in his blog post.
Google's "I'm feeling lucky" option has also made its way to the new Google Earth. When clicked, it will take users to a random and interesting place which they can explore. When a user lands on a place, they will also be able to open up what's called a Knowledge Card to learn about the place's history, facts and see more photos.
There's also a card for related places so users can instantly jump to a next location. Google says that it has curated 20,000 different places for this feature to work.
The redesigned Google Earth includes a new 3D button, which allows users to view sites from any angle. Users can also share the 3D locations as a postcard for their friends and family, according to VentureBeat.
The new Google Earth is now available on the web via the Chrome browser, and it will roll out to Android devices this week. The new Google Earth will be available to iOS devices and other browsers in the coming months.
© Copyright IBTimes 2023. All rights reserved.