Google Nexus 10 Leaked Images Show Samsung Tablet Powered By Android 4.2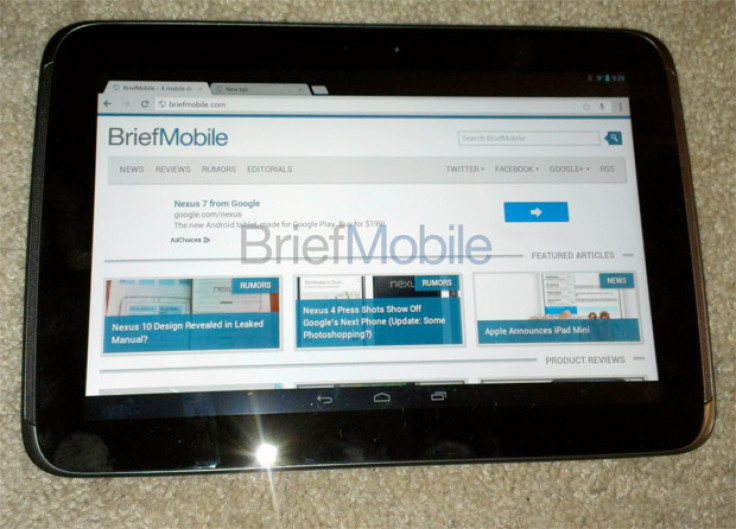 Leaked images of Samsung Nexus 10 tablet that surfaced on digital publications reveal that it runs on the latest Android 4.2 mobile operating system.
Apparently, a series of images published in BriefMobile showed that the much-awaited Nexus 10 with a 10-inch screen, curvy sides and a rear camera.
The tablet that was supposed to be unveiled Monday by search giant, but has been postponed owing to Hurricane Sandy warning, comes with a metallic rear with the brand Nexus printed above Samsung logo and textured top strip that closely resembles plastic used on Nexus 7.
The Android 4.2 operating system bears close resemblance with Android 4.1 that is revamped for a larger device. It also showcases a quick settings bar that supports multiple user profiles, The Verge has reported.
Reportedly, the specifications for the new device include a 2560x1600 screen, a 1.7 GHz Samsung Exynos processor, and 2GB RAM.
Embedded in the device are dual speakers, NFC and a 5-megapixel rear camera. The build comes with 16GB storage.
Internally, the Nexus 10 is likely to feature a Samsung-built Exynos 5250 processor with Cortex-A15 architecture and Mali-T604 GPU, BriefMobile has pointed out.
The same processor is also employed in Google's latest Chromebook. A 1.7 GHz dual-core powerhouse, it seems to fare better than the Qualcomm Snapdragon S4 Pro and Apple A6 SoCs.
Trade information has it that there is no provision for microSD card slot in the device. Google seems to rely heavily on new Drive and Play Store infrastructure that is employed for cloud storage.
The 2560x1600 screen implies that the device features approximately 298.9 pixels-per-inch, that far higher than 263.92 featured in the third-generation iPad.
© Copyright IBTimes 2023. All rights reserved.