Google Search Plus Your World May Force Google to Explain Themselves to FTC (VIDEO)
Google+ Content to be Included in Search Results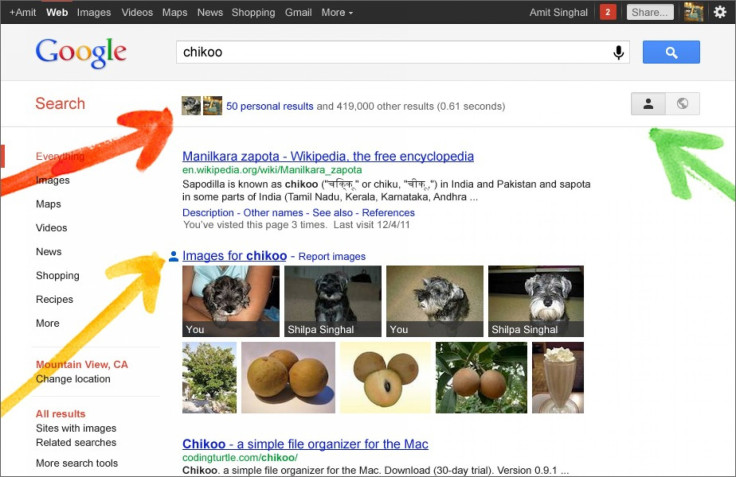 Privacy activists have cause to report Google to the Federal Trade Commission because they think it conflicts with people's privacy and may be unfair, the Los Angeles Times reported. A group called the Electronic Privacy Information Center is taking the matter up, the report said, and they may file a letter to the FTC Marc Rotenberg, the executive director said. EPIC has worked on Google privacy issues in the past, and they were partially responsible for an FTC ruling requiring Google to be audited for privacy issues every other year.
At issue is Google's new search integration of its Google+ social network, a feature allowing people's Google+ photos and comments to be included and in fact prioritized in Web searches. For people logged into Google or Google+, the social network included results will pop up when searching. Search results will be customized by those people's Google+ circles and information shared. Google's whole search philosophy is based around knowing what people are searching for, but the move is also an attempt to build up support for their new Google+ social network. That's because they are directly competing against Facebook and their 800 million members.
Google is an entrenched player trying to fight off its challenger Facebook by using its market dominance in a separate sector, Rotenberg told the L.A. Times.
I think that should trouble people.
Google is not the only one using social network data to fine-tune its search results. Microsoft's Bing has been adding Facebook content to search since May. Google dominates the search landscape, however, so the spotlight is on them. Twitter has also chimed in on the new search model because they say it forces their content lower down in search results. Tell us in the comments if you're active in Google+ and if you think the changes are more than just cosmetic.
© Copyright IBTimes 2023. All rights reserved.