GOP Debate 2015: Why Bobby Jindal Should Not Brag About Louisiana's Employment Rates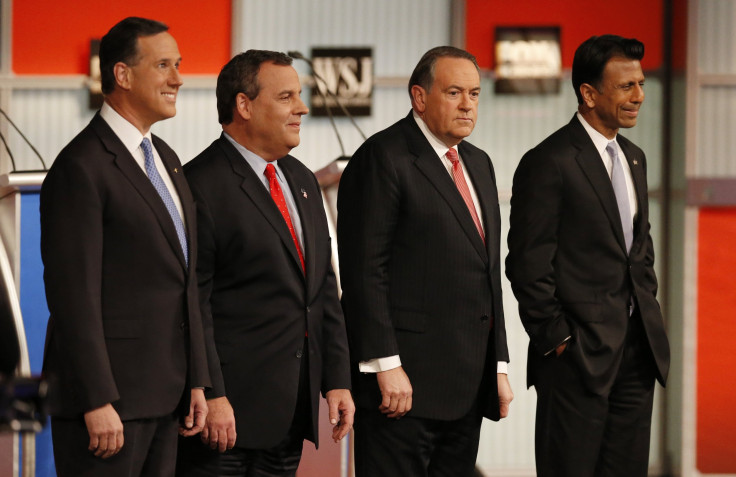 Louisiana Gov. Bobby Jindal during the Republican debate in Milwaukee on Tuesday was asked to address his state's record on employment, and his view of the Louisiana economy did not seem to align with that of the moderators, who pointed out that the unemployment rate there is higher than the national average.
"We have more people working in Louisiana than ever before," Jindal insisted. "We have 60 months in a row of consecutive job growth."
The state's unemployment rate clocked in at 6 percent in September, while the national rate fell to 5.1 percent, according to the Bureau of Labor Statistics. Louisiana has seen employment rates increase since December 2014, when unemployment hit 7.2 percent.
Jindal blamed the federal government for any bleeding in the American economy. "Let's shrink the government economy so we can grow the American economy," he said. "That's the fundamental issue we should be debating here tonight."
The Louisiana governor and three other low-polling candidates were invited to the undercard debate, which ran prior to the prime-time debate. The other candidates selected for the earlier forum were former Pennsylvania Sen. Rick Santorum, New Jersey Gov. Chris Christie and former Arkansas Gov. Mike Huckabee.
Jindal focused many of his attacks on Christie, saying that he had cut spending in his state, unlike the New Jersey governor. Christie largely refused to be drawn into a debate, complimenting Jindal's performance in his state and pivoting to his own ability to beat Hillary Clinton in a general election.
Due to their even lower poll numbers, former New York Gov. George Pataki and U.S. Sen. Lindsey Graham of South Carolina did not qualify to participate in the earlier forum.
The line-up was based on the four most recent major polls conducted before the Nov. 4 cutoff: Fox News, Quinnipiac, NBC/Wall Street Journal, and CBS/New York Times.
Bobby Jindal Presidential Candidate Profile | InsideGov
The candidates to appear in the primetime debate Tuesday will be former Hewlett-Packard CEO Carly Fiorina, former Florida Gov. Jeb Bush, U.S. Sen. Ted Cruz of Texas, U.S. Sen. Marco Rubio of Florida, businessman Donald Trump, retired neurosurgeon Ben Carson, U.S. Sen. Rand Paul of Kentucky and Ohio Gov. John Kasich.
The undercard debate aired on Fox Business Network at 7 p.m. EST. The event was broadcast from the Milwaukee Theater in Milwaukee.
© Copyright IBTimes 2023. All rights reserved.