'Gotham' Renewed For Season 4: Check Out The Reactions From Stars, Fans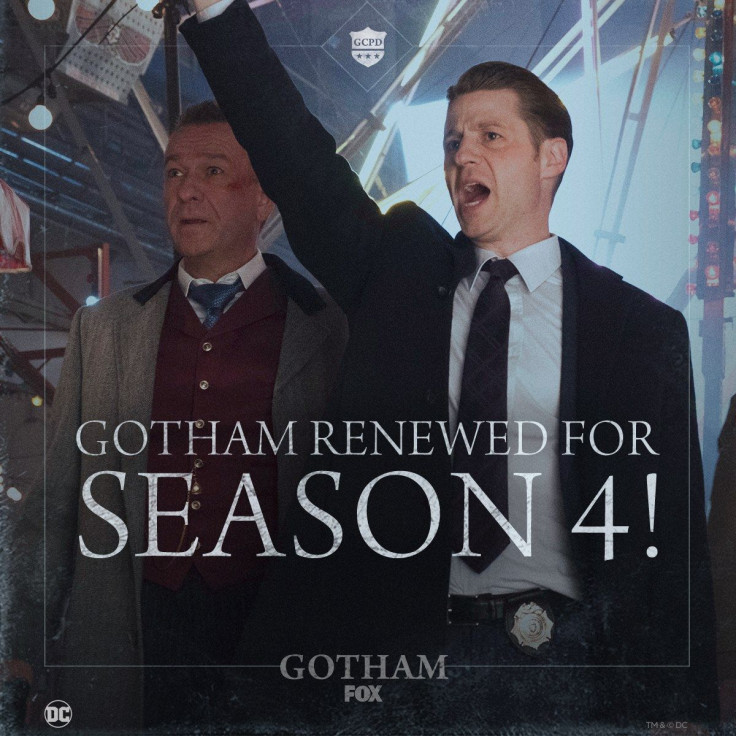 The "Gotham" saga continues as the Fox show has just been greenlighted for a fourth season.
The renewal came a little bit late, according to Deadline, but it was news that the shows' stars and fans all welcomed with gusto nonetheless. When the show announced the good news on Twitter, fans rejoiced over the renewal, but they also made a request for the show not to take so many breaks this time around. "I am so excited!!! But I humbly suggest that NO [to] so many breaks in one season," a fan wrote.
READ: Will the Gotham City Sirens be a part of "Gotham" Season 4?
Lead star Ben McKenzie, who plays Jim Gordon in the series, thanked everyone who made the renewal possible.
The same goes for David Mazouz, who plays the young Bruce Wayne, and Sean Pertwee, who plays his loyal butler Alfred Pennyworth.
The stars who play the show's villains (or soon-to-be villains) also have kind words to extend to fans. Erin Richards (Barbara Kean) and Carmen Bicondova (Selina Kyle) thanked "Gothamites" who have remained loyal to the show since Season 1. The brilliant Chris Chalk (Lucius Fox) did the same.
As for Cory Michael Smith (Riddler), Jessica Lucas (Tabitha Galavan) and Cameron Monaghan (Joker), they're simply thrilled that the show will continue airing and telling more stories.
For Season 4, the destruction of Gotham might finally take place, therefore prompting Bruce to fulfill his destiny as Batman. He is now training with Ra's Al Ghul (Alexander Siddig), leader of the League of Shadows, after his doppelgänger, also known as 514A, switched places with him.
Mazouz told Comic Book Resources that his doppelgänger is very instrumental in the Court of Owls' nefarious plans. He guaranteed that something big will happen to Bruce that will "ultimately help transform him into the man we know he has to become."
But will Ra's Al Ghul help him or drag him down? As far as Siddig is concerned, fans will have to keep guessing Ra's Al Ghul's true motives and loyalties since he made the character "as ambiguous as possible." "So I really tried to get him so ambiguous that he's almost liquid – that was the way I thought about it. You're really not sure if he's good or bad – no-one knows whether he's a demon or a saint, or a ghost, that's a line from the script," he told Digital Spy. "I suspect that kind of liquidity can only be fascinating. It certainly fascinates me, and I know I'm going to have fun for as long as I end up playing this character."
For now, Gordon has managed to work undercover as a member of the Court of Owls, so he might be able to save Bruce when he discovers the big switch. Maybe Alfred will notice something is amiss with his boss and alert the proper authorities to look for him. It's too late now for Selina to find Bruce, especially since 514A just pushed her out of her window. Hopefully, Selina will be just fine after that act of betrayal.
"Gotham" airs every Monday at 8 p.m. EST on Fox.
© Copyright IBTimes 2023. All rights reserved.