'Gotham' Season 1 Spoilers: Which Villain Just Became A Father/Son Duo? How Writers Are Tweaking Batman Mythology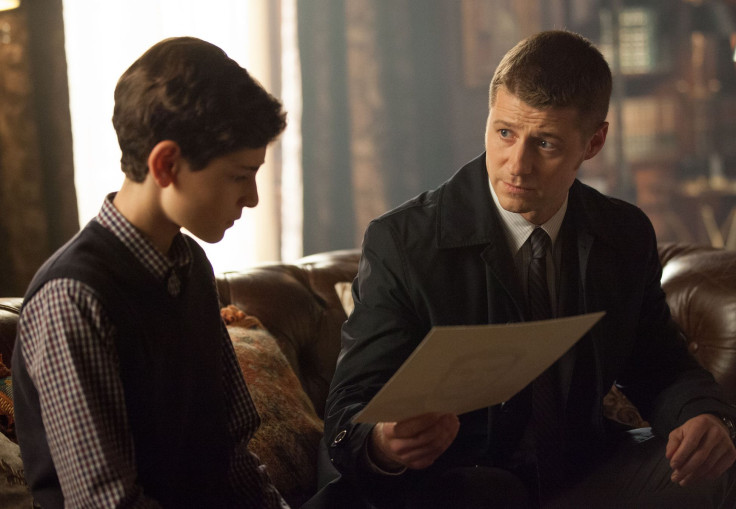 "Gotham" is a prequel about villains, so it has one serious problem: None can be killed. Penguin (Robin Lord Taylor), Catwoman (Carmen Bitcondova) and the Riddler (Cory Michael Smith) all have to survive until Bruce Wayne (David Mazouz) is Batman. It seems the writers discovered how to solve that problem: Make the villain two people. No, we're not talking about Two-Face (though he'll be in episode 9). They're splitting Scarecrow/Dr. Jonathan Crane into two characters.
At Stan Lee's Comikaze Expo, the "Gotham" writers revealed Scarecrow's introduction at a panel, according to Zap2It. The villain will appear in the second half of "Gotham" Season 1.
"We're breaking the story now," executive producer Danny Cannon said.
Cannon revealed Batman's nemesis would be a child on "Gotham," and his father will take on the evil persona first. This plan "will create an eventual enemy for Batman while still having a possible adversary for Jim Gordon," Zap2It reported.
Scarecrow is a villain that uses a fear toxin to make his victims hallucinate. They see their deepest fears, and Scarecrow studies their reactions. The former professor is obsessed with the human fear reaction.
The comics have a couple of versions of the Scarecrow's history, according to Comic Vine. In the earlier comics, Scarecrow was abandoned by his parents and raised by his religious grandmother. In a 2012 reboot, his father was a chemist working on a fear toxin for the government. His father died while experimenting on his son. Neither of those versions is exactly what "Gotham" is doing by making the Scarecrow a persona taken on by multiple people.
However, this twist raises the stakes for "Gotham." Jim Gordon (Ben McKenzie) will now be able to kill an adversary, and he isn't dealing with a young villain like Penguin anymore. The elder Scarecrow could be introduced as a full-fledged villain.
"Gotham" airs Mondays at 8 p.m. EST on Fox. Do you think Gordon will be able to kill a villain like Scarecrow? Share your theories in the comments section below!
© Copyright IBTimes 2022. All rights reserved.
FOLLOW MORE IBT NEWS ON THE BELOW CHANNELS