Grammys 2015: Ed Sheeran Song ' Thinking Out Loud' Wins On Shazam, Soundhound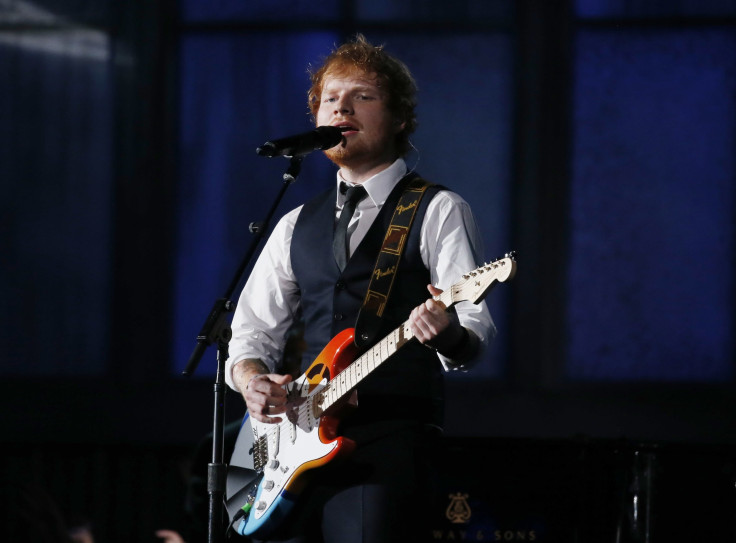 British folk musician Ed Sheeran may not have won any Grammys last night, but he got plenty of people to open their wallets, according to data released separately by music discovery apps Shazam and Soundhound. The British star's "Thinking Out Loud" drove more intent to purchase than any of the night's 23 musical performances, including a pair of brand new Kanye West songs, "Only One" and "FourFiveSeconds," a collaboration with Paul McCartney and Rihanna.
Sheeran was also one of the five artists discussed most extensively on Twitter, according to reports the company released this morning, despite a social media presence that's minuscule compared to the ones top musicians like Kanye West and Katy Perry possess.
Sheeran was the only artist that made an effort to drive fans to use Shazam during the performance, promising them an acoustic version of "Photograph" in a post on Sheeran's Facebook page. He did not make any similar effort to drive Soundhound use. Sheeran was joined by a legendary collection of artists including Herbie Hancock, John Mayer and Ahmir "Questlove" Thompson. Shazam and Soundhound don't sell music but measure "intent to purchase" as a click through to a music store like iTunes, Amazon or Google Play.
"Thinking Out Loud" is not a new song. After being released as a free track to fans who had pre-ordered "X," Sheeran's most recent album, it quickly took off, topping the charts in Britain for an extended period of time; it currently sits at #37 on the Billboard chart. It has been streamed more than 200 million times on Spotify, and an official music video, which appeared online in early October, has been watched more than 212 million times on YouTube.
It is difficult to assess how much revenue might have been raised directly from Sheeran's performance. Neither Soundhound nor Shazam released hard numbers on the total number of clicks his performance drove, saying only that it had driven more than the night's other performances. In addition, neither company released information about how many sales were actually completed once users were directed to platforms like the iTunes Store, Google Play, or Amazon's music store.
© Copyright IBTimes 2023. All rights reserved.