Groupon, PETA And Politics: Under Pressure From Animal-Rights Activists, Daily Deal Site Struggles To Stay Neutral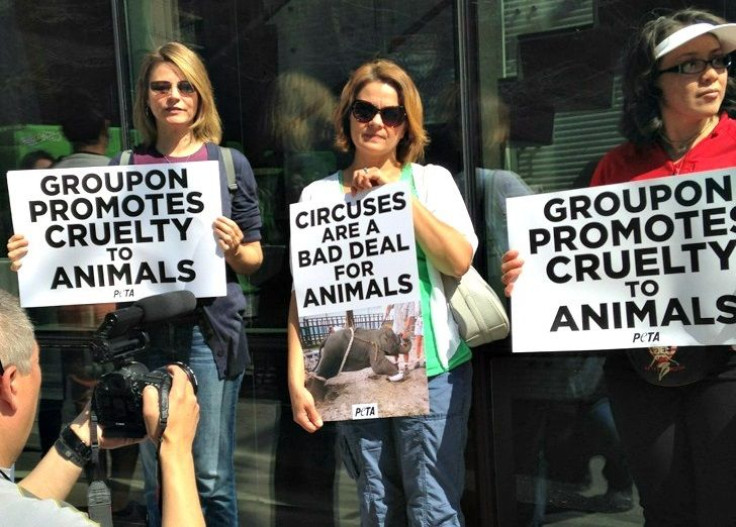 In spite of its well-publicized financial struggles, Groupon Inc. (NASDAQ:GRPN) strives to project an image of carefree, irreverent whimsy. (Remember the time it trolled history buffs with a press release honoring Alexander Hamilton on President's Day?) But lately the daily-deals company is finding it more difficult to stay out of real-life political battles -- even though it would clearly prefer not to be caught in the middle.
The company is currently the target of a fierce boycott effort by the animal-rights group PETA, which says Groupon "promotes cruelty to animals" by offering deals for zoos and circuses. Sign-wielding PETA demonstrators protested outside Groupon's annual stockholders meeting in Chicago on Tuesday, and the group has even purchased stock in Groupon so its members can personally attend the meeting next year.
The effort has incited a pushback from conservatives, in particular the National Center for Public Policy Research, which says the growing trend of agenda-driven boycotts is disruptive to the free market. "It seems that hardly a week goes by without a news story about left-wing organizations pressuring businesses to cave in and endorse some aspect of the left-wing agenda," Amy Ridenour, chairman of the National Center, said in a statement.
Hoping to weigh in on the issue, Justin Danhof, the National Center's general counsel, attended Groupon's stockholder meeting as well. During a Q&A session, he urged Groupon executives -- in light of PETA's recent criticism -- to "stay neutral in political controversies." And he got a response from Paul Taaffe, Groupon's head of communications, who assured Danhof and the meeting's attendees that Groupon deals are dictated by people, not politics.
Following the meeting, the National Center declared victory -- boldly announcing on its website that Groupon has "pledged it will be content neutral" when selecting deals to offer its members. "That very simple message is a victory for Groupon and the free market, and a very clear defeat for PETA and its ilk," Danhof said.
But there's just one problem. Groupon never uttered the words "content neutral," and nobody at Groupon actually made a pledge, at least not publicly. Rather, Taaffe merely acknowledged a longstanding aspect of Groupon's approach to data-driven deals: Groupon's offers are a reflection of the tastes of its 50 million customers.
"This isn't a new approach or policy," Bill Roberts, a Groupon spokesman, told International Business Times in an email. "The only pledge we make is to do awesome things for our customers."
And what about the "very clear defeat" for PETA? Reached by phone, Danhof said he came to that determination after the Q&A session. He said he was approached privately by Taaffe, who strongly reaffirmed his assertion that Groupon won't bend to pressure from activists. Based on that private conversation, Danhof said he is convinced Groupon will stand its ground against PETA. "We can bicker back and forth over the definition of the word 'pledge,' but when the head of communications tells me right now, period -- and in the future, period -- 'We are not going to make decision based on politics,' I consider that a pledge," Danhof said.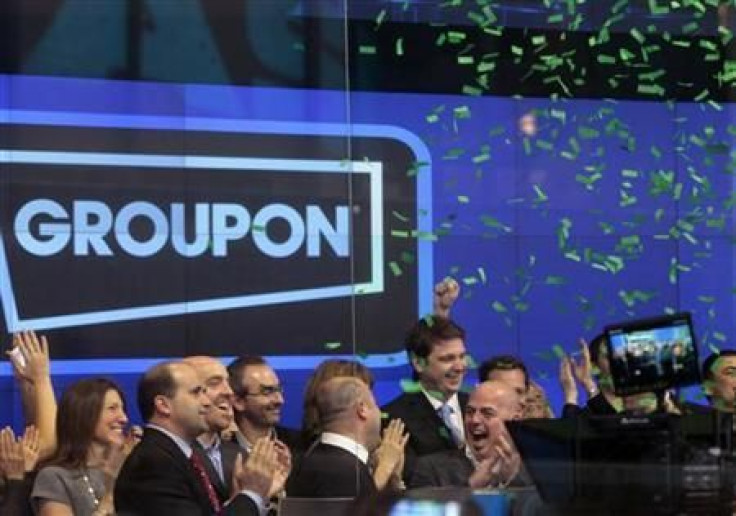 At best, the dispute underscores the sometimes tricky position of third-party coupons sites, whose deals can be easily seen as an endorsement of a company at the receiving end, even if sites like Groupon insist that they are not. In many cases, passing the buck on controversy is easy. Federal regulations would restrict Groupon from offering deals for, say, a brothel or marijuana repository – both legal businesses in some states. But less-regulated industries can be equally controversial. Ringling Bros. can't so much as pitch a tent without dodging legions of angry protesters, and yet its supporters attest with equal fervency that the elephant-heavy spectacles are just harmless family fun. For Groupon, that means figuring out which side it's on -- even if it prefers whimsy to politics.
Danhof, for one, says he's fairly certain a side was already chosen. "I get a lot of political, lawyerly-type answers from executives, and this was one of the most direct, un-equivocating answers I've ever gotten," he said. "But, look, did we spit on each other's hands and make a pledge? Of course not."
Got a news tip? Email me. Follow me on Twitter @christopherzara.
© Copyright IBTimes 2023. All rights reserved.
FOLLOW MORE IBT NEWS ON THE BELOW CHANNELS