Ringling Brothers Circus At Barclays Center Meets With Protests Over Treatment Of Elephants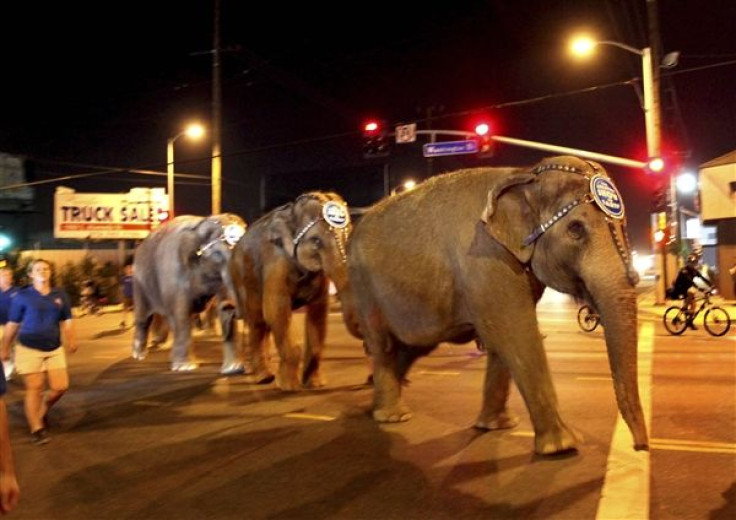 The storied Ringling Bros. and Barnum & Bailey Circus will appear at Brooklyn's new Barclays Center for the first time this week, but not everyone is juggling for joy.
Several animal-rights organizations are banding together to protest what they say is Ringling's habitual and systemic mistreatment of the exotic animals in its shows, in particular Asian elephants, which are commonly used as peformance animals. The protests will kick off on Wednesday and continue during select circus performances through April 1.
Some of the groups involved include Animal Defenders International (ADI) and In Defense of Animals (IDA), as well local supporters of People for the Ethical Treatment of Animals (PETA). Organizers say Ringling's history of animal abuse dates back several decades.
"Ringling Bros. has a very long, very dark past with regard to treatment and training practices," said Erika Mansourian, a volunteer coordinator who is helping ADI with the protests.
Animal-rights activists have long condemned the use of elephants for the purposes of entertainment. Elephants are believed to be among the most intelligent species on earth, experiencing a range of complex emotions, self-awareness and even language. They are also nomadic by nature, roaming up to 50 miles a day in the wild -- a fact that Mansourian said makes captivity particularly agonizing for the species.
"They're extremely intelligent, and they're not naturally obedient," said Mansourian. "These trainers at Ringling think the only way to get an animal that intelligent to be obedient is through violent and brutal methods."
Those methods, she said, include separating the elephant from its mother at a young age and locking it in a tiny "crush" pen until it is frightened into subservience, an ancient training technique known in Thailand as the Phajaan process. Elephants are also beaten throughout their lives to keep them obedient to their trainers, Mansourian said.
As the self-proclaimed "Greatest Show on Earth," Ringling Bros. has found itself at the center of a growing debate over the use of elephants for entertainment. Its circuses are often met with fervent protests by organizations who point to popular events like Cirque du Soleil as evidence that circuses do not need to exploit exotic animals to thrive. Stephen Payne, vice president of corporate communications at Feld Entertainment, which owns Ringling Bros., accused the protesters of spreading misinformation, saying in a phone interview that the welfare and care of Ringling animals are of the utmost importance to the company.
"Obviously we respect the First Amendment rights of these groups, but we hope folks will come out to the Barclays Center and see for themselves how well our animals are treated," Payne said.
But, naturally, it's what happens behind the scenes that concerns the animal-rights groups. They charge that Ringling elephants are chained inside poorly ventilated boxcars for an average of more than 26 hours at a time when the circus travels. Payne countered that charge by saying the company is subject to random inspections by animal-control officials in most of the states in which it operates.
In 2009, an investigative video shot by PETA purported to show Ringling trainers "beating, whipping, and hooking elephants and striking tigers." The video caused an uproar when it was made public, but Payne said it doesn't tell the whole story, adding that the animals in the video were later examined and found to be OK. Moreover, he questioned the motives of PETA, which is often criticized for its demonstrative tactics.
"If PETA was so concerned with the welfare of the animals in that video, why didn't they report it right away instead of waiting until they could make a media splash?" he said. "That's what that organization is all about."
Asked about the timeframe between the video's capture and its release, Ashley Byrne, a spokesperson for PETA, said the group spent several months documenting elephant mistreatment at the hands of Ringling trainers for the purposes of demonstrating a pattern of abusive behavior. She added that, once the investigation was complete, the video was released the next day.
ADI, which has offices in London and Los Angeles, uses language that is perhaps less outspoken than PETA's, but it is equally adamant about putting an end to elephants as entertainment. Last month, the group released the DVD "No Fun for Elephants," narrated by former "The Price Is Right" host Bob Barker. The DVD shows undercover footage of elephants being beaten with bullhooks (a training tool with a sharp steel hook at its end) and zapped with electric shock techniques Mansourian called "standard operating procedure" for elephant trainers.
Payne acknowledged that Ringling trainers use bullhooks, but he said the company prefers the term "guide," which he described as a "natural extension of the trainer's arm." He said Ringling trainers have been using the tool for decades and know how to use it safely. As for electric shocks, he said they are used only in cases of emergency.
In response to criticism that elephants are nomadic by nature and therefore don't belong in captivity, Payne said much of the research in that area has focused on African elephants. "Asian elephants roam mostly for food and water," he added. "All the needs of our elephants are met. It's like having someone bring you room service every day."
Deborah Robinson, a captive elephant specialist with the group In Defense of Animals, said the notion that Asian elephants can be happy in captivity is standard misleading information put out by circuses. "Elephants by nature are on their feet and moving for 20 hours of the day, and not only in search of food and water," she said. "They browse. They socialize. They move even when food is nearby."
As of Tuesday afternoon, a Facebook group for the Ringling Bros. protest had more than 400 people signed up to attend. Organizers encourage attendees to dress conservatively so as to not detract from the groups' serious message. Mansourian said the protests are not just for avid elephant lovers but for anyone who cares about animal welfare.
"Personally, I don't consider myself an animal-rights extremist," she said. "We're just trying to raise awareness about what's going on. Elephants are so intelligent and their social structure is so complex. This is not just me anthropomorphizing. They actually mourn their dead."
Interested parties may RSVP for the Ringling Bros. protests here. Watch the full clip of ADI's "No Fun for Elephants" below.
Got a news tip? Send me an email. Follow me on Twitter: @christopherzara
© Copyright IBTimes 2023. All rights reserved.