Grumpy Cat's $100 Million Scowl: How Being Unimpressed Made A Feline And Her Owner Rich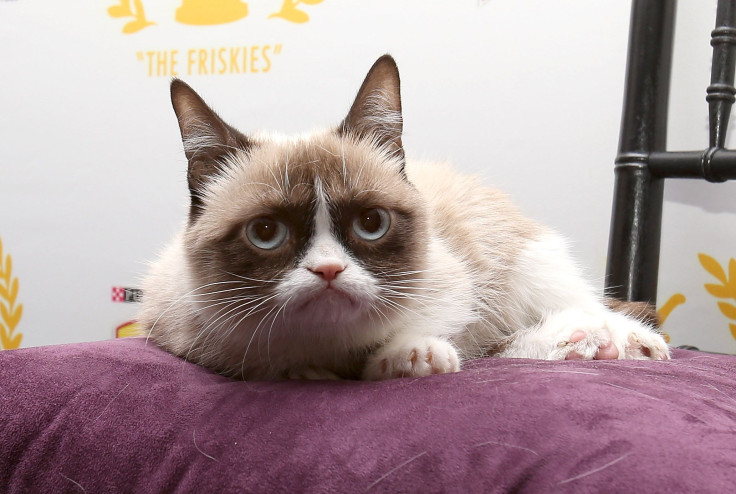 Update: Tabatha Bundesen told the Huffington Post Monday that the claim that Tardar Sauce aka "Grumpy Cat" has earned close to $100 million is "completely inaccurate." U.K. publication the Express reported Sunday that the melancholy feline made approximately £64 million. Bundesen declined to comment on Grumpy Cat's actual worth.
Original Story
Sometimes it pays to be cantankerous. It certainly has for "Grumpy Cat," the scowl-faced feline that has made her owner a millionaire.
Grumpy Cat, a mixed breed whose real name is Tardar [sic] Sauce, has been booking gigs nonstop ever since her first YouTube video, "Grumpy Cat's Worst Christmas Ever," debuted two years ago and quickly drew almost 16 million views.
Since then, she and her owner, Morristown, Arizona-based Tabatha Bundesen, have earned about $99.5 million from products, advertisements, a best-selling book and a film. Tardar Sauce and her Grumpy Cat persona are now worth more than many A-list actors and professional athletes.
"What she's achieved in such a short time is unimaginable and absolutely mind-blowing," Bundesen told U.K. publication The Express.
"I was able to quit my job as a waitress within days of her first appearance on social media, and the phone simply hasn't stopped ringing since."
The cranky kitty is now associated with a range of products -- she's a spokes-feline for Friskies; her likeness can be found on a brand of iced coffee called Grumppuccino; and Whole Foods is stocking a Grumpy Cat 2015 calendar.
Tardar's perpetual frown comes from having dwarfism as well as an underbite. Though Bundesen admits she may be "pug ugly," the public can't seem to get enough of Grumpy Cat. Tardar has over 521,000 Instagram followers and over 255,000 Twitter followers. She is also the face of the Grumpy Cat Internet meme, which depicts her taking pleasure in others' misfortune.
True to her persona, she's been known to be indifferent to her adoring fans. Tardar reportedly slept through her appearance at the 2014 VidCon convention in Anaheim, California.
Tardar Sauce's film "Grumpy Cat's Worst Christmas Ever," premiered on Lifetime Nov. 29, paying homage to her not-so-humble roots.
© Copyright IBTimes 2023. All rights reserved.