'Grumpy Cat' Movie Trailer Makes Fun Of Lifetime; Watch Video For 'Grumpy Cat's Worst Christmas Ever'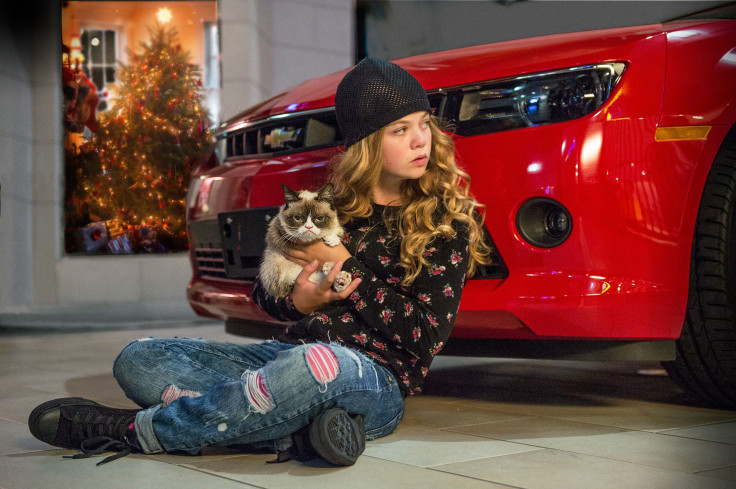 The Internet's most famous cat is about to have her very first movie. Lifetime just arranged for the debut of a trailer for "Grumpy Cat's Worst Christmas Ever."
Grumpy Cat (voiced by Aubrey Plaza) appears to have settled into life at the pet store until Chrystal (Megan Charpentier) comes along. Chrystal wished for a friend this Christmas, and the magical forces of Christmas have given her Grumpy Cat. The 12-year-old girl is the only one who can hear Grumpy Cat speak. She might not be the friend Chrystal was looking for, but they'll still spend the holidays together.
Of course, Grumpy Cat isn't exactly up for a movie about holiday cheer and family. "Don't get sappy on me," Grumpy Cat says. "Wait, I forgot. It's a Lifetime movie."
However, she'll find her own fun. Grumpy Cat gets frisky with a paintball gun in the trailer, despite British Grumpy Cat pointing out, "They don't even make paintball guns for cats."
The trailer seems to not even care about the fourth wall, constantly reminding viewers that this is a movie. "This is the best Christmas ever," Chrystal says.
"Go ahead, ignore the title of my movie," Grumpy Cat says.
Watch the trailer for "Grumpy Cat's Worst Christmas Ever" below:
"Grumpy Cat's Worst Christmas Ever" will premiere on Lifetime Nov. 29 at 9 p.m. EST and will be released on DVD Dec. 16.
© Copyright IBTimes 2022. All rights reserved.
FOLLOW MORE IBT NEWS ON THE BELOW CHANNELS