'Haikyuu!!' Season 4, Episode 14 Official Synopsis, Spoilers: What Happens In 'Rhythm'?
KEY POINTS
Kageyama, Hinata and the others play against Inarizaki High School
The Miya brothers are expected to play a key role in the match
"Haikyuu!!" Season 4, Episode 14 is scheduled to air Friday
The spotlight shines on Miya brothers -- Osamu Miya and Atsumu Miya -- in "Haikyuu!!" Season 4, Episode 14. The much-awaited match between Karasuno High School and Inarizaki High School continues.
The official synopsis for "Haikyuu!!" Season 4, Episode 14 is out teasing Karasuno High School and Inarizaki High School's match in the second round of the tournament.
Karasuno High is overwhelmed by the support for Miya brothers. "Haikyuu!!" Season 4, Episode 14, titled "Rhythm," is likely to focus on Karasuno High striving to find a rhythm against the second-best team and its fans.
Apart from the synopsis, the official website also released a set of spoiler stills showcasing the players in action. One of the stills shows Hinata and Kageyama and they look ready to face the opponents.
In the previous episode, Karasuno High's players had a team meeting ahead of this important match. Keishin Ukai, the coach of Karasuno High boys' volleyball club, talks about the key players of Inarizaki High. Ukai warns the team of Atsumu Miya. Sugawara mentions that Atsumu is regarded as the top high school setter. Kageyama states that Atsumu's serve is his key weapon and they need to find a way to tackle it. Ukai and Kageyama discuss Atsumu's jump float serves and spike serves.
Meanwhile, Yachi is nervous about Karasuno High facing the second-best team in the tournament. Hinata is excited to go up against Miya brothers and other remarkable players of Inarizaki High. Toward the end of the episode, Atsumu leads the team with his first serve and the crowd cheers. Later, Asahi is set to serve and the crowd supporting Inarizaki High starts booing. Ukai notes that those cheering for the opponents are trained. It appears Karasuno will be under extreme pressure as the match continues in "Haikyuu!!" Season 4, Episode 14.
The cast of the anime includes Kaito Ishikawa as Tobio Kageyama, Ayumu Murase as Shoyo Hinata, Hiroshi Kamiya as Ittetsu Takeda, Hideaki Kabumoto as Osamu Miya, Mamuro Miyano as Atsumu Miya, Kouki Uchiyama as Kei Tsukishima, Jun Nazuka as Aran Ojiro, Nobuhiko Okamoto as Yu Nishinoya, Nobuyuri Sagara as Hisashi Kinoshita, Ryusei Nakao as Tanji Washijo, Subaru Kimura as Satori Tendo, Yuu Hayashi as Ryunoksuke Tanaka, Yu Miyazaki as Sachiro Hirugmai and Yoshimasa Hosoya as Asahi Azumane.
"Haikyuu!!" Season 4, Episode 14 will be aired Friday. The new episodes will stream in Japanese with English subtitles.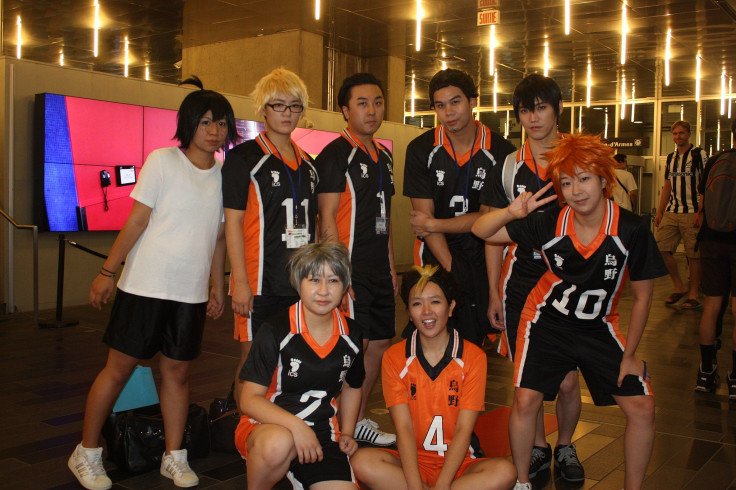 © Copyright IBTimes 2023. All rights reserved.