Hallmark Channel 'Road To Christmas' Premiere: See Cast, Trailer
Chad Michael Murray and Jessy Schram star in the new Hallmark Channel Countdown to Christmas premiere, "Road to Christmas," on Sunday.
The "One Tree Hill" alum made his debut on the network earlier this year with "The Beach House," while Schram joined the Hallmark family back in 2005, when her first "Jane Doe" mystery movie premiered. Her most recent flick on the channel was during last year's Christmas event when she starred in "Royal New Year's Eve."
Here's what to expect from their new 2018 flick:
"It's Christmastime in Los Angeles and the smart and talented Maggie Baker [Schram] is producing the annual televised Christmas Special for 'Julia Wise Lifestyle,' where she has worked for several years," the synopsis begins. "With the pressure of needing higher ratings, Maggie's idea of producing a live show has the network president concerned. Unbeknownst to Maggie, Julia (Teryl Rothery) asks her former producer, her (handsome) son Danny (Murray), to incorporate safe and traditional pre-recorded pieces into the show and Maggie is less than pleased with Danny in the way."
Maggie tries to make the best of it and comes up with her "Cross Country Christmas" plan, where she and Danny will travel around, looking for unique Christmas celebrations to film for the TV special. Really, though, she's going to try to convince Danny and his two brothers to spend Christmas with their mom, on-air, for the first time in years. They've had issues in the past that made them not want to celebrate together, but Maggie looks to change that.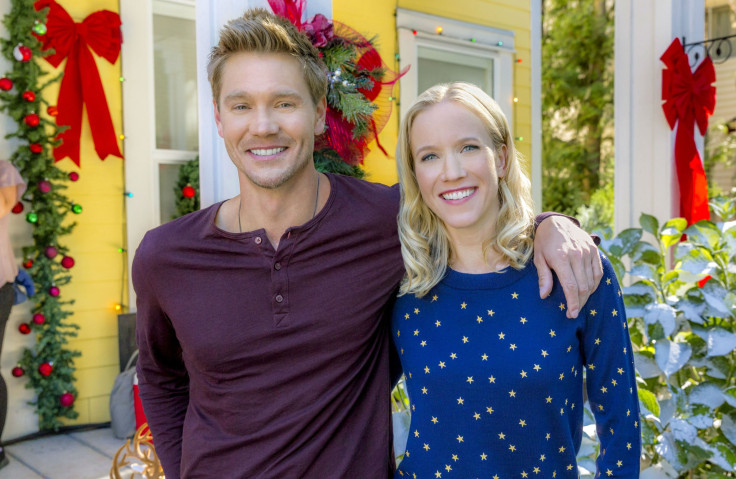 When they show up at the Rocky Valley Ski Resort and find Derek (Cardi Wong), Danny's youngest brother, the former producer is upset with Maggie for not telling him about her true intentions with this trip. Still, the two brothers agree to surprise their mom in Vermont, but explain to her that getting their other brother, David (Jeff Gonek), won't be easy.
"With a winter storm approaching, they drive to Omaha, but not before making a detour to Hitchens, Nebraska for an unannounced stop to see Maggie's family," the synopsis continues. "During the visit, the flame between Maggie and Danny intensifies, and she lets Danny film her family for one of the show segments, showing she really does enjoy the Christmas traditions. They continue to outrun the storm and fly to Rhode Island, trying to convince David to join them in Vermont."
Work emergencies and travel issues keep David and Derek away, leaving only Danny left to head to Vermont. On top of that, they lose power and Julia's forced to speak from the heart because there's no teleprompter for her to use.
"But that's not the only unscripted moment in the show and Julia is soon given the surprise of her life, leaving her speechless," the synopsis reveals. "It's in that moment that Maggie is reminded that above all, it's the love you have for your family and friends that makes for the merriest Christmas."
Catch "Road to Christmas" when it debuts on Hallmark Channel at 8 p.m. EST on Sunday.
© Copyright IBTimes 2023. All rights reserved.