Hallmark Movies Now September 2019: New Movies, Shows Releasing On The Platform
August is coming to an end soon, which means Hallmark's streaming service, Hallmark Movies Now, is getting ready to drop the first two episodes of its "When Calls the Heart" spinoff series, "When Hope Calls." But that's only just the beginning.
The show kicks off on Friday, and then fans will get to see even more episodes of the drama every Friday throughout September (and beyond). Plus, there are a bunch of older, and some more recent, movies heading to the service next month.
Check out all of the new titles releasing on Hallmark Movies Now in September 2019, as well as what they're all about (per Hallmark):
"When Hope Calls" Season 1 (new episodes available every Friday)
Stars: Morgan Kohan, Jocelyn Hudon, Ryan-James Hatanaka and Greg Hovanessian
Synopsis: "When Hope Calls" tells the story of sisters Lillian (Kohan) and Grace (Hudon) who open an orphanage in the 1916 Western town of Brookfield. Caught between the traditions of cattle ranchers and the ambitions of a growing town, they strive to find romance and happiness while overcoming the challenges of helping the children in their care.
"Hello, It's Me" (available Sept. 2)
Stars: Kellie Martin and Kavan Smith
Synopsis: Two years after her husband dies in a sudden accident, Annie (Kellie Martin) and her two children are left to cope with the loss. Annie can't imagine falling in love again, until she meets a wealthy bachelor who is drawn to her free spirit. Afraid to love again, she longs for guidance when she starts to develop feelings for this new man. Her prayers are answered when she starts receiving communications from her late husband that encourage her to follow her heart.
"Darrow & Darrow: Body of Evidence" (available Sept. 2)
Stars: Kimberly Williams-Paisley, Tom Cavanagh and Wendie Malick
Synopsis: An earnest young policeman believes a local woman has been wrongly convicted of murder and turns to defense attorney Claire Darrow and D.A. Miles Strasberg for help.
"An Hour Behind" (available Sept. 9)
Stars: Emily Rose and Barry Watson
Synopsis: The time change and a case of mistaken identity result in a wonderful blind date for Trish (Rose) and Parker (Watson), but is it enough to keep them together?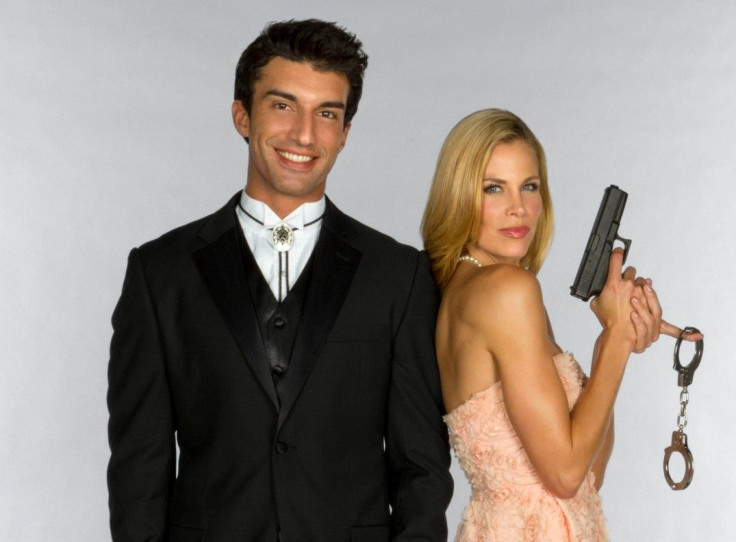 "Undercover Bridesmaid" (available Sept. 9)
Stars: Brooke Burns, Justin Baldoni, Nicole Paggi and Gregory Harrison
Synopsis: An agent, who was once jilted at the altar, goes undercover to protect a mogul's daughter, a bride-to-be, from death threats. But the agent soon finds herself embroiled with the groom's questionable, yet charming best friend, and unable to separate her bitter feelings from her past to survive this assignment. Between the aunt who is depleting the family scholarship fund, the playboy cousin with an inheritance at stake, and a very angry business partner, almost every wedding attendee is a legitimate suspect.
"A Feeling of Home" (available Sept. 16)
Stars: Jonna Walsh and Nathan Parsons
Synopsis: Web entrepreneur Abby hides her Texas roots to convince a backer she's from New England, a task complicated by a trip home and an unexpected reunion with Ryan, her high school sweetheart.
"After All These Years" (available Sept. 16)
Stars: Wendie Malick, Martha Burns, Andrea Martin and Gregory Harrison
Synopsis: Malick stars as Audrey Brandon, a wife and mother whose life is turned upside down after she is framed for her husband's murder.
"Love Surreal" (aka "Everything You Want" — available Sept. 23)
Stars: Shiri Appleby, Nick Zano and Will Friedle
Synopsis: A man (Nick Zano) falls for an art student (Shiri Appleby) who invented an imaginary boyfriend to cure her loneliness.
"Wedding Planner Mystery" (available Sept. 23)
Stars: Erica Durance, Andrew Walker, Brandon Beemer and Chelan Simmons
Synopsis: A young wedding planner is framed for a crime and struggles to clear her name as she learns that love does not always arrive in a pretty package.
© Copyright IBTimes 2023. All rights reserved.