Hallmark Movies Podcast: Meet Bubbly Sesh Hosts Jacks And Shawl
Sure, Hallmark has three networks — Hallmark Channel, Hallmark Movies & Mysteries and Hallmark Drama — and a streaming service called Hallmark Movies Now, but, as of a few months ago, it also has an official podcast for fans to enjoy.
Hosted by Shawlini Manjunath-Holbrook and Jacklyn Collier, Hallmark Channels' Bubbly Sesh offers Hallmarkies exclusive interviews with their favorite Hallmark stars, as well as fun recaps of all of their new movies, every Monday and Thursday.
Most recently, the women recapped "Love, Take Two" and "Picture Perfect Mysteries," and their interview with "Mystery 101" star Kristoffer Polaha comes out Thursday.
Whether you've been an avid listener (Sesher) since the podcast's first official episode dropped in April or you plan on listening after hearing about it for the first time right here, every episode makes new and returning listeners, alike, feel like they're hearing their girlfriends chat about the most recent movie they watched. In this case, Jacks and Shawl chatting about the most recent Hallmark movie they saw.
To feel even more like you're listening to an audio recording of the weekend brunch, full of bubbly, you went to with friends, keep reading to get to know the hosts, and their podcast, a little bit better.
The duo first met in acting class but became even closer after realizing, over a glass of bubbly, that they both love Hallmark. This blossomed into not only a beautiful friendship but a beautiful working relationship, as well.
Jacks and Shawl decided a podcast was the best way to combine both their desire to work creatively with each other and their need to discuss all things Hallmark.
Thus, The Bubbly Sesh was born.
In late 2017, the women launched the podcast by covering a few of the Countdown to Christmas movies. In 2018, they kicked things into high gear by covering more of Hallmark Channel's Saturday night premieres, Hallmark Movies & Mysteries' Sunday night flicks and all 38 of Hallmark's new Christmas movies.
This was all done independently until Crown Media, Hallmark's parent company, noticed Jacks and Shawl's enthusiasm and saw The Bubbly Sesh's potential and asked if they'd like to become the company's official podcast. The Hallmarkies said yes, of course, and they officially joined the family when the announcement was made at Crown Media's 2019 Upfronts event in March.
With every episode since April, when the new iteration of the podcast started, Jacks and Shawl have helped Seshers get to know their favorite Hallmark movies and stars better. Now, it's only fair that Seshers learn more about the hosts, as well.
In an email interview with International Business Times, the co-hosts dished all about their love of Hallmark, its movies and its stars.
International Business Times: When did you start watching Hallmark Channel?
Jacks: I've watched Hallmark movies with my family since I was a little girl. My mom would always say "Violence is not entertainment," so it was really important to her and my dad that my brother, sister and I were watching programs that fit our values.
Shawl: I used to watch Hallmark Hall of Fame movies with my family when I was younger, but really Hallmark entered my life on a regular basis when I started the journey of motherhood. When I was expecting until now with my two year old daughter, Hallmark movies were my place to unwind and relax.
IBT: What's your favorite Hallmark movie and why?
Jacks: It's so hard to pick just one! From this year's Countdown to Christmas I was really obsessed with "Road to Christmas"! I love a good road trip and the chemistry of Jessy Schram and Chad Michael Murray was on fire. The brothers in this film are so much fun too!
Ultimately though, I am such a mystery gal! Hallmark has such good mystery series, but I am particularly into the "Morning Show Mysteries" with Holly Robinson Peete, "Darrow & Darrow" and "Mystery 101."
Shawl: Favorite Hallmark movie? Ooooh that's so tough! "Nine of Lives of Christmas" has a special place in my heart obviously because of how we created the podcast, but I love any Candace Cameron Bure movie! This past Christmas, "Shoe Addict's" was so much fun and I love "Christmas Under Wraps" and "Switched For Christmas."
I also love "Moonlight in Vermont" starring Lacey Chabert, "Christmas in Evergreen" starring Ashley Williams and a Christmas throwback called "Snow Bride"! Mystery wise, I'm really into "Darrow & Darrow" and that world!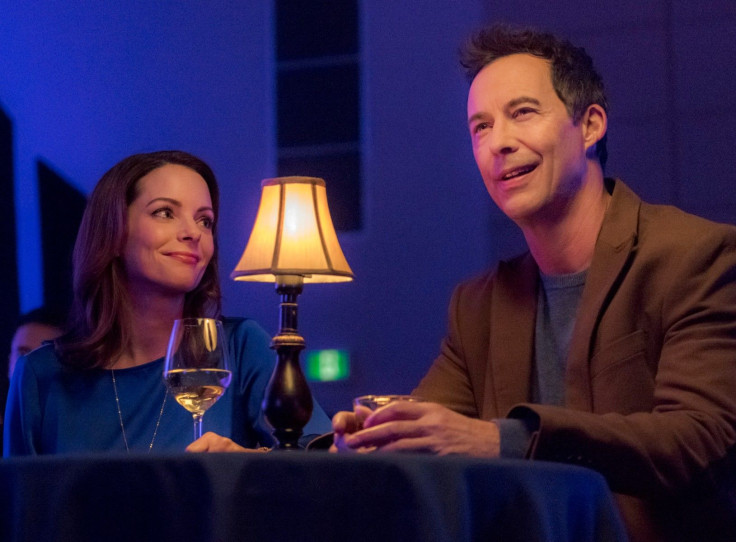 IBT: Who's your favorite Hallmark actress? Actor?
Jacks: I would say I have a soft spot for Kristoffer Polaha. We've gotten to interview him twice and he's just so smart, funny and knowledgeable about acting. It also doesn't hurt that he has a great Jimmy Stewart impression and a smile that could charm anybody…
As far as favorite actress — well that's even more difficult! Something that Shawl and I talk about all time is the amazing strong female leads of the Hallmark Channel. Nikki DeLoach is an incredibly gifted actress and so natural on camera. She's just fascinating to watch.
I also really love Kimberly Williams-Paisley and Ashley Williams. They are both so talented and seeing them just makes my heart happy! They have such a strong sister connection and I hope that the rumors are true and that they will eventually do a Hallmark Christmas movie together. I would be extra bubbly from the excitement of that!
Shawl: In terms of Hallmark leading men, I have to say I just adore Luke Macfarlane. I think he's such a talented performer. He's warm and sweet, but also handsome and has great chemistry with his female leads… Also, Andrew Walker is another that we definitely know fans resonate with because well, look at him, but we also just interviewed him and he's so funny and approachable and just a really nice guy!
Tyler Hynes is another that's on the scene lately and I think has such a grounded and soulful performances, plus, his sweater game is strong! And Will Kemp from "Royal Matchmaker" and "Love, Romance and Chocolate" needs to be in more, he gives strong, funny and deep performances. And to round it out! Carlos PenaVega! He's so handsome, funny and has great energy!
Actress wise, I echo all of Jacks' thoughts, but Candace Cameron Bure is my all time favorite! She brings so much depth and humor to her roles If she's in a movie, I know I'll enjoy it.
Same for Lacey Chabert who is so talented and shows so much sweetness and vulnerability in all her roles. Ashley Williams and Jen Lilley are such comedic talents and always make me laugh. Alexa PenaVega and Taylor Cole are also so much fun! Alexa is so sweet and upbeat and Taylor is feisty and vulnerable and I always like when actresses bring that to their roles.
Definitely want to see more of Bethany Joy Lenz, who was in "Royal Matchmaker" and "Bottled With Love," because she is just delightful and grounded.
IBT: Which supporting Hallmark actor/actress would you love to see take on the lead romantic role?
Jacks: Brit Bristow and Cardi Wong! These two are hilarious and so charming. Brit has been so supportive of the podcast from the time we launched, and the first time Shawl and I chatted with her, it truly felt like we were talking to an old friend. She is so down to earth, sweet, and yes, BUBBLY! And okay, I have a little crush on Cardi so that may have something to do with why I want to see him in a lead role.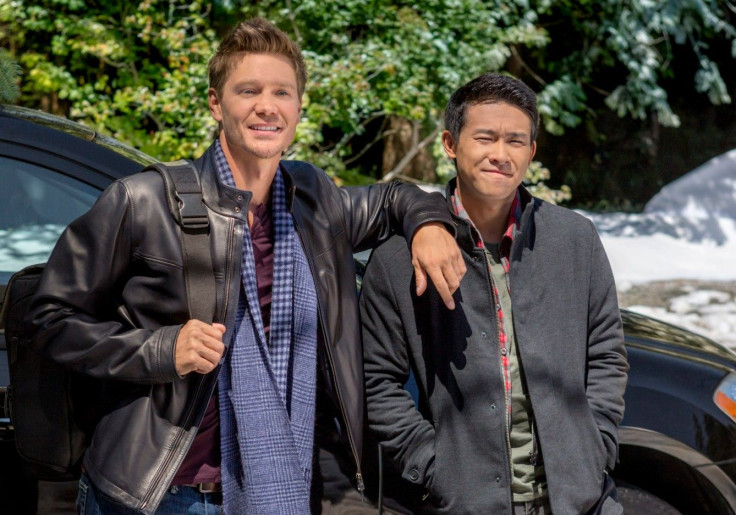 Shawl: I second my co-host there! Brit Bristow is so lovely and we adore her, but more importantly, her acting performances are so strong that she would definitely be a great lead! Cardi Wong is so funny, handsome and he really stands out in any of his movies so would love to see him as a lead.
Rukiya Bernard needs to lead more movies too! I loved her in the "One Winter Weekend" movies and was happy to see that she got equal billing in the second film "One Winter Proposal." Plus, as an Indian-American woman, I want to see more diversity on the network, and I'm excited because I think they are moving in that direction.
Hallmark fans can check out Jacks and Shawl hosting Hallmark Channels' Bubbly Sesh anywhere podcasts are found, including on Hallmark Channel's website.
New episodes are released every Monday and Thursday, with bonus episodes sometimes arriving on other days throughout the week. Hallmarkies and Seshers can also follow Bubbly Sesh on Twitter and Instagram.
© Copyright IBTimes 2023. All rights reserved.