Hallmark's Rachael Leigh Cook Talks 'Frozen In Love' Cast Chemistry, Favorite Scene
After breaking out as the lead in the 1999 classic rom-com "She's All That," Rachael Leigh Cook rejoined the genre in 2016 when she starred in her first Hallmark Channel movie. Now, she's back on the network with her fourth Hallmark film premiering this Saturday and it's one that's she's exceptionally proud of.
Not only is she the female lead of "Frozen In Love," but the movie, which follows Mary (Cook), an uptight bookstore owner, and Adam (Niall Matter), a wild hockey player, is based on a story idea that she came up with years ago.
The actress and story developer spoke with International Business Times to share all about how she came up with the idea for the film, as well as what it was like working with Matter and how this movie differs from her other Hallmark projects.
International Business Times: How did you come up with the story idea?
Rachael Leigh Cook: The origin of the idea of this character came from my watching the show "Frasier" for a little bit too long one afternoon and I love the character Niles Crane and I love the idea of playing somebody who's just a little bit too smart for their own good.
I thought, "Maybe I'd be good at that" and I also just loved sports movies and the world of sports, so I just thought, "How can I marry those things together" and the plot of the movie just came to me all at once. Then, many years later, I started working for Hallmark and I realized it could be a good fit, so I took it to my friend Jim [Head], who I've worked with on a couple movies for them, and we pitched it and we were shooting probably three months later. It was absolutely crazy.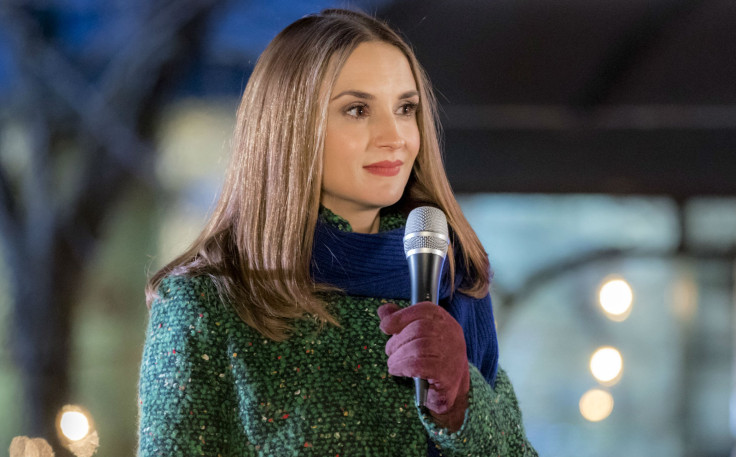 IBT: Are you anything like your character, Mary?
Cook: If you watch the movie and think, "Wow, she's awkward and slightly annoying," that's all me. That's me, top to toe. Earnest, but awkward, sums me up pretty well.
IBT: What's your favorite scene from this new movie?
Cook: I think my favorite scene is probably when Mary and Adam meet at her bookstore and he's just so tired and desperately needs coffee, as most of us can relate to, and she is in her bookstore, the place that she loves. It's hyper-traditional, it does not have any coffee and he comes in and can't fathom that a bookstore wouldn't be able to sell him any coffee. And I always call that scene in my mind, "We Don't Have Coffee," and the back-and-forth that they have about it really sets the stage well for the movie and their relationship and I love it.
IBT: How was it working with Matter and will viewers be able to feel the chemistry between you two?
Cook: I sure hope so. We get along terrifically. As for the chemistry part, I always feel like that's difficult for me to comment on. I really feel like that's up to you and hopefully the viewers to decide.
Niall could not be cooler and I feel so lucky that I had such a dedicated and willing and responsible actor in that role. If somebody had shown up, and some actors do to movies they'd just received an offer, having barely read the script, feeling no real obligation to break sweat from day to day, take to take, I would've been really sad because the project does mean so much to me. But, Niall brought it every day and he was always ready and so funny. I really hope people like the movie. He was fantastic in it.
IBT: How is "Frozen in Love" different from your other Hallmark movies?
Cook: I love the writing. I feel so lucky that we had Rick Garman write script for this one. He just wrote the best banter I've had the pleasure of performing in I don't know how long. It feels so good to be doing that. I did a crime show for years and a bunch of indies with much darker subject material and it felt like coming home to be doing this. I just feel very grateful to him that he gave us such a good template.
Catch Rachael Leigh Cook in "Frozen in Love" on Hallmark Channel on Saturday, Jan. 13, at 9 p.m. EST.
© Copyright IBTimes 2023. All rights reserved.