Halloween 2015 Costume Ideas From Books: Harry Potter, Alice In Wonderland And Other Literary Characters For Men, Women And Children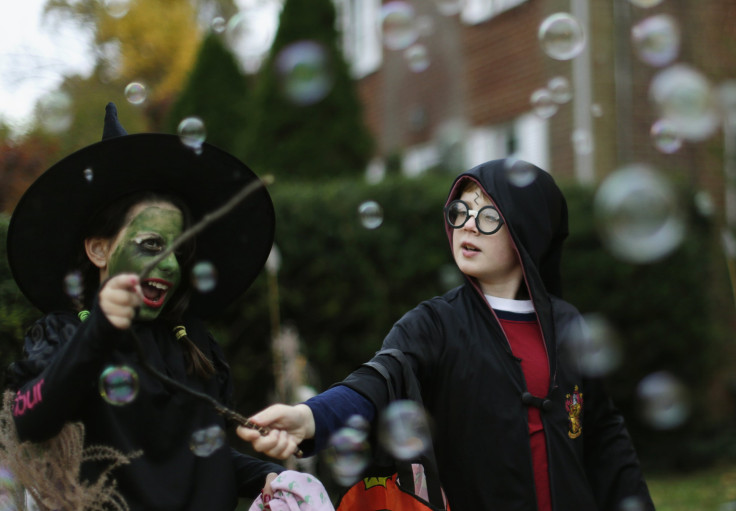 Read every Harry Potter book and saw all the movies? Then it's long past time to embody your favorite British wizard by dressing up as Hermione's best friend for Halloween.
Not into the boy who lived? No worries. Use your imagination this year and dress up as your favorite literary character. It doesn't necessarily have to be a character everyone will recognize. But to avoid explaining your costume all night, read on for the best ideas on how to prove you are a book nerd this Halloween.
Alice in Wonderland: Anyone can wear a blue dress and white tights to honor Alice, but do you have a mini-house to wear around your shoulders? Hurry up. You don't want to be late on this costume idea.
Max: Admit it. "Where The Wild Things Are" was the second-best thing about your childhood, after Christmas gifts. Wearing pajamas on Halloween doesn't sound like a bad time, either.
Katniss Everdeen: Braids are always a fun time, but kicking butt with a bow and arrow as the heroine from "The Hunger Games" takes it to the next level.
Humpty Dumpty: This may not be the sexiest costume, but you get to wear lots of layers, a plus if you live in a northern state.
Scarlett O'Hara: If you can get past the Confederate-era politics, this is your chance to wear a very big skirt.
Madeline: Love A-line dresses and classic shoes? Search your local thift stores for the perfect accessories or follow this tutorial.
Very Hungry Caterpillar: Prone to munching on snacks while devouring a page-turner? Dress in green and red for this idea that recalls childhood.
Olivia: Think Olivia the pig trumps Wilbur From "Charlotte's Web"? Then don a tutu and get ready to make a homemade snout with these tips.
Peter Pan: Never want to grow up? Well, you are celebrating Halloween by dressing up. Go full kid by pulling on some green tights and practicing your best crow.
© Copyright IBTimes 2023. All rights reserved.