Halloween 2016: 13 Creepy Songs For Your Party Playlist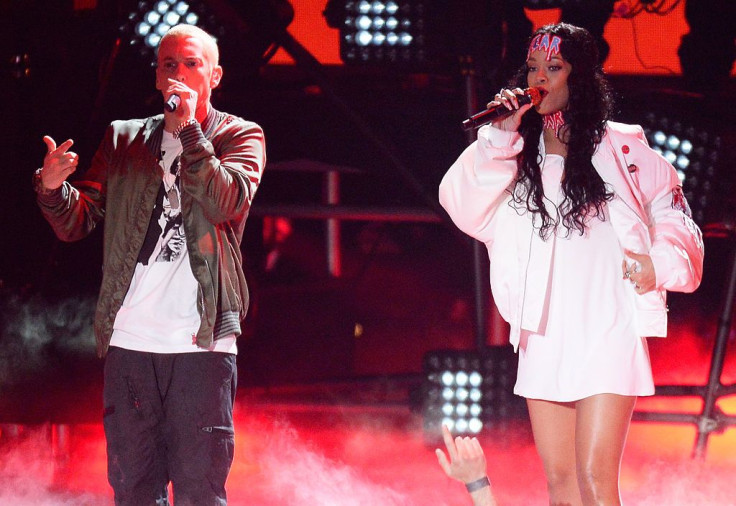 Whether you're staying in and handing out candy or throwing a costume party, a good Halloween playlist is always needed for the holiday. Instead of the usual classics, here's a mix of new and old songs that are sure to put you in a good mood while also giving you that Halloween feel.
Between Halloween staples such as Michael Jackson's "Thriller" and Rockwell's "Somebody's Watching Me" there are also a mix of more modern songs with a Halloween-vibe, like "The Hills" by The Weeknd and "Disturbia" by Rihanna.
The playlist also includes songs from Lady Gaga, Eminem and Rihanna, Kanye West, The Talking Heads and Shakira. Check out all of the suggested songs below:
1. Lady Gaga - "Teeth"
While it wasn't a big hit, this Lady Gaga song is perfect for Halloween.
2. Michael Jackson - "Thriller"
Michael Jackson's 1984 hit song has become a Halloween classic.
3. Oingo Boingo - "No One Lives Forever"
This Oingo Boingo song is perfect for any party.
4. Stevie Wonder - "Superstition"
Like Michael Jackson's "Thriller," Stevie Wonder's "Superstition" has become a Halloween staple.
5. Rihanna - "Disturbia"
Rihanna's 2008 single is full of creepy sounds that make it seem like it was made for Halloween.
6. The Weeknd - "The Hills"
With it's haunting beat and screams scattered throughout, The Weekend's "The Hills" is great for a Halloween playlist.
7. Rockwell - "Somebody's Watching Me"
Fun fact about "Somebody's Watching Me": Michael Jackson sings background vocals on the song.
8. Kanye West featuring Jay Z and Nicki Minaj - "Monster"
Kanye's "Monster" once had a music video to go along with it but it was deemed too controversial and ended getting banned from MTV.
9. Talking Heads - "Psycho Killer
A song with "Killer" in the name has to be on any Halloween playlist.
10. Shakira - "She Wolf"
Like "Disturbia," Shakira's "She Wolf" is a great Halloween dance song.
11. Ray Parker Jr. - "Ghostbusters"
Besides "Thriller," Ray Parker Jr.'s "Ghostbusters" may be the go-to Halloween track.
12. Yeah Yeah Yeahs - "Heads Will Roll (A-Trak Remix)"
The Yeah Yeah Yeahs' version of "Heads Will Roll" is a great Halloween song on its own, but it's DJ A-Trak's remix that makes it even better.
13. Eminem featuring Rihanna - "The Monster"
Rihanna makes the list twice, this time, teaming up with Eminem on their hit "The Monster."
© Copyright IBTimes 2023. All rights reserved.